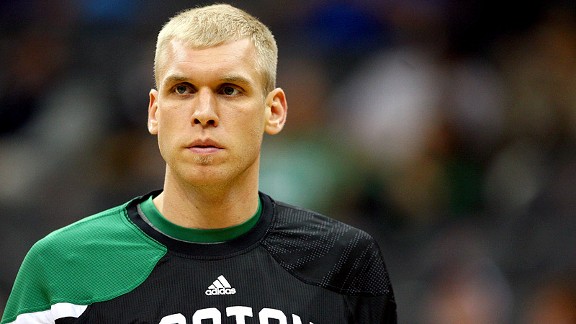 Chris Chambers/Getty Images
Celtics rookie center Greg Stiemsma made a big impression in his first season with the team.Over the three weeks leading up to start of the new league year on July 1, we'll take a player-by-player look at the Celtics' 2011-12 roster and how each player's season unfolded, assigning a grade for their overall performance. This is the 14th in the series of report cards:
Player: Greg Stiemsma
2011-12 averages: 2.9 ppg, 3.2 rpg, 1.5 bpg, 13.9 mpg
2011-12 salary: $762,000
Season in a paragraph: The former D-League standout (and world hoops traveler) got brought into training camp to audition for a depth role for size-craving Boston then impressed with his shot-blocking talents and finished his rookie campaign as the first big off the bench. A liability against the pick-and-roll early in the season, Stiemsma's defense steadily improved as he settled into Boston's system. Foul trouble -- warranted or not -- plagued him at times, but Stiemsma was important enough to land a vote from an NBA head coach for the All-Rookie team at season's end. That speaks volumes to his development over the course of a condensed season in which he wasn't afforded the typical practice time most rookies get -- all while playing through numerous maladies (including foot woes that left him in a walking boot much of the second half).
Season highlight: Stiemsma made a heck of a first impression, swatting six shots during his NBA debut on Dec. 28 in New Orleans (which led Tommy Heinsohn to make a memorable comparison to Bill Russell). His best overall effort came in April when he chipped in 10 points (on perfect 4-of-4 shooting), nine rebounds, five blocks, and a steal over 27 minutes in an 86-72 win over the Pacers. Early April saw some of Stiemsma's finest play before his injuries acted up a bit and his minutes reduced as Boston leaned on smaller lineups in the postseason.
Season lowlight: After a solid effort in Game 1 of the Eastern Conference finals (6 points and 4 rebounds over 12 minutes), an incredulous Stiemsma picked up four fouls in five minutes in Game 2, essentially preventing him from making any sort of true impact in a key game. It was a frustrating night for a player that had fared well against size-deprived Miami.
Final grade: B+
Teacher's notes: Stiemsma clearly exceeded expectations. He arrived as a raw player who leaned heavy on his shot-blocking to mask other defensive deficiencies and was deep on the depth chart behind the likes of Jermaine O'Neal and Chris Wilcox. But even before those in front of him went down with their own injuries, Stiemsma distinguished himself with his play and showed steady improvement. He's got a sneaky little offensive game and actually shot 72.7 percent on jumpers inside of 17 feet (and 51.2 percent on all catch-and-shoot situations overall, according to Synergy Sports data). He struggled in the post, but was solid as a cutter (or roll man) going at the hoop for easy dunks. Defensively, Stiemsma made incredible strides. By the end of the season, he ranked in the 93rd percentile among all NBA defenders, allowing a mere 0.711 points per play (that's downright, KG-like), according to Synergy. Opponents shot just 34.7 percent against him and he tightened up his early season pick-and-roll woes.
What's next?: The Celtics will almost certainly extend a $1.1 million qualifying offer before July 1, starting the process by which they hope to bring Stiemsma back next season. When that happens, he'll be a restricted free agent, offering Boston the ability to match any offer he receives. The question then will be whether any team is willing to spend big money to pry him away and how much Boston will be willing to pay to keep him around. The Celtics could also start thinking about a longer-term extension if they see Stiemsma as part of their future plans (and let's face it, defensive-minded young big men do not grow on trees).
Honor roll: Click HERE to read past report cards.
Don't agree with teacher? Just want to sound off on Stiemsma's 2011-12 season? Leave your thoughts in the comments section.