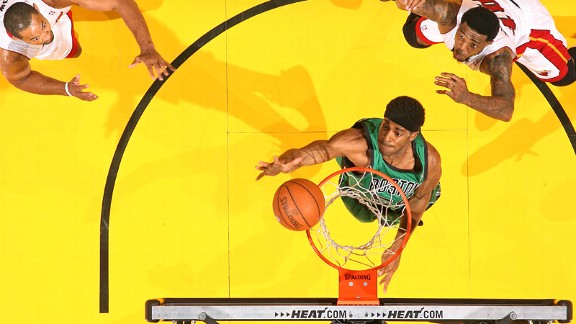 Nathaniel S. Butler/NBAE/Getty Images
Sean Williams got some floor time during Boston's postseason run to the Eastern Conference finals.Over the three weeks leading up to start of the new league year on July 1, we'll take a player-by-player look at the Celtics' 2011-12 roster and how each player's season unfolded, assigning a grade for their overall performance. This is the 16th in the series of report cards:
Player: Sean Williams
2011-12 averages: 3.7 ppg, 4 rpg, 14 mpg with Boston (3.6 ppg, 2.3 rpg, 9.7 mpg overall)
2011-12 salary: $50,000 (pro-rated $885,000 veteran minimum)
Season in a paragraph: After splitting time between the Dallas Mavericks and their D-League affiliate (Texas Legends), Williams -- a Boston College product -- returned to the area by signing with Boston in the final week of the regular season. Eligible for the postseason, Williams spent much of it active and appeared in two games while getting to be part of a ride to the cusp of the NBA Finals.
Season highlight: Waived by the Mavericks on March 22, Williams was probably just happy to latch on with a team and earned himself a few nice paychecks. He appeared in three regular-season games for the Celtics, chipping in six points, seven rebounds, and a block over 19 minutes in the regular-season finale against the Milwaukee Bucks. That might have helped earn him an active spot in the postseason over rookie JaJuan Johnson.
Season lowlight: The former first-round pick (17th overall) of the New Jersey Nets spent the better part of the past two seasons in the D-League. The Mavericks gave him a chance early in the 2011-12 campaign and he responded by scoring 12 points in 11 minutes in the team's second game of the year. Alas, soon he was back in the D-League and simply couldn't stick whenever Dallas called him up for an opportunity.
Final grade: Incomplete.
Teacher's notes: Forty-eight minutes of court time with the Celtics simply isn't enough to offer a grade. For an extremely limited sample (three end-of-the-regular-season games) Williams put up nice numbers, particularly his defensive rebounding (21.4) and total rebound percentages (16.8) -- those sort of numbers would have ranked him in the top 25 of those categories if maintained for the season.
What's next?: It'll be interesting to see if the Celtics liked what they saw enough to bring Williams back. The team inked him to a fully non-guaranteed second-year at $915,000 and have until August 1 to decide if they want to pick that up. That allows Boston to do its offseason shopping and clear the contract if it finds an upgrade -- or hold on and give him another chance if they feel he's a better bench option after getting a taste of the system. It's easy to forget, but Williams is just 25 years old -- younger than C's rookie Greg Stiemsma -- and the 6-foot-10 forward now has four years of NBA experience under his belt.
Honor roll: Click HERE to read past report cards.
Don't agree with teacher? Just want to sound off on Williams' 2011-12 season? Leave your thoughts in the comments section.