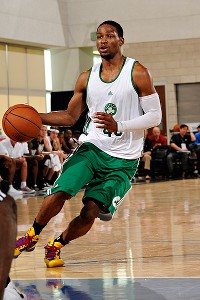 Fernando Medina/Getty Images
Jonathan Gibson.ORLANDO, Fla. -- Like everyone in Orlando this week, Celtics summer leaguer Jonathan Gibson is trying to get noticed. His bright yellow sneakers help him in that regard, but not nearly as much as his fourth-quarter performance in Tuesday's come-from-behind triumph over the Brooklyn Nets.
The 25-year-old Gibson, a New Mexico State product who has spent the past two years overseas, erupted for 15 of his game-high 17 points in the final frame, making all four shots he took as the Celtics rallied out of a 17-point second-half hole to emerge with the win.
The former Italian League 3-point champion showcased his talents beyond the arc, making three triples in the final frame. Mix in some gritty, in-your-face defense (think shades of Avery Bradley), and Gibson left plenty in attendance seeking to find out more about him.
"I just wanted to come off the bench, be a spark," he said. "Defensively, get into them; offensively, push the ball. I think I did a pretty good job of that."
Much better than his first outing. In Monday's win over Oklahoma City, Gibson missed all five shots he took and looked a bit like someone firing away just to make an impression. On Tuesday he showcased the skills that enabled him to shoot 39.8 percent from 3-point land last season in Turkey.
"The first game, I was robotic, that's not really me," said Gibson. "So the second game, I came out with more energy."
While much of the focus for the Celtics is on their three rookies (including first-round draft picks Jared Sullinger and Fab Melo), along with second-year players like JaJuan Johnson and E'Twaun Moore, it's Gibson who made one of the strongest impressions Tuesday.
And his teammates certainly took notice with that fourth-quarter outburst.
"You gotta let someone like that play. That's what we did," said Sullinger. "We put the ball in his hands and he caught fire."
Yes, you can't ignore someone who's on fire.