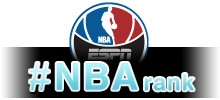 ESPN.com and the TrueHoop Network are ranking every NBA player -- and counting them down on Twitter (@NBAonESPN), from No. 500 to No. 1. Celtics rookie Kris Joseph gets the typical second-round pick treatment and is the first Boston player to debut at No. 467 (with a 1.99 ranking). That should provide just another dose of motivation for the 51st overall pick in this summer's draft.
Some of Boston's former second-round picks like E'Twaun Moore (414th, 2.46 rating) and Lester Hudson (468, 1.97) are also part of the 400+ club, as is departed big man Sean Williams (428, 2.32).
One rating sure to draw heavy Boston interest (and maybe even some debate), Brian Scalabrine lands at No. 487 with a 1.76 rating.
Hop HERE to view the in-progress list.