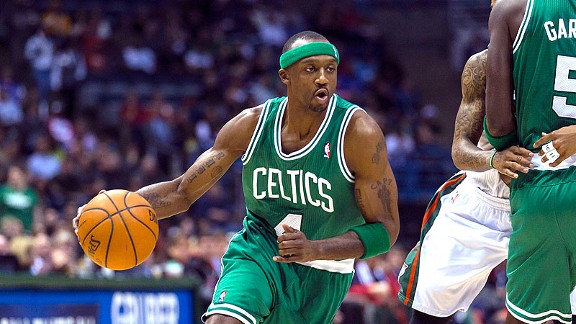 Jeff Hanisch/US Presswire
Jason Terry and the Celtics came out of the gates slow, but finished strong in Milwaukee.Rapid reaction after the Boston Celtics defeated the Milwaukee Bucks 96-92 on Saturday night at the Bradley Center:


Rapid reaction following the Boston Celtics' 96-92 victory over the Milwaukee Bucks at the BMO Harris Bradley Center Saturday night.
THE NITTY GRITTY
Paul Pierce was tops for the Celtics in both points (25) and rebounds (nine), emerging as the team's most consistent source of offense for much of the second half. Pierce scored 19 points over the final two quarters. Kevin Garnett added 18 points and six rebounds, Jason Terry chipped in 15 points, and Jeff Green came through late, finishing with 12 points and three rebounds. Rajon Rondo had another double-double, completing his night with 10 points and 10 assists. Monta Ellis poured in 32 points for the Bucks, who had five players reach double figures in scoring.
FRANTIC FINISH
The Bucks carried a 68-64 edge into the fourth quarter, and the score remained close into the waning minutes. Things really picked up with five minutes to go when Pierce and Ellis engaged in an old-school back-and-forth scoring duel. From the 5:18 mark to the 3:54 mark, the two practically went shot-for-shot, capped off by each knocking down a 3-pointer for their respective clubs, Ellis' triple giving the Bucks a one-point edge. But Garnett then got in on the act, knocking down consecutive jumpers, and Brandon Bass added a jump shot of his own from the left corner with just under two minutes left, giving Boston an 87-82 lead. A Marquis Daniels jumper with 25 seconds left brought the Bucks within one, 91-90, but after Terry hit one of two free throws, Green came up with a pivotal steal on Ersan Ilyasova, and the C's sealed things from the free throw line from there.
BOLD PLAY OF THE GAME
It appears we're in the midst of a rejuvenation of the Rajon Rondo-to-Kevin Garnett alley-oop. It's occurred a handful of times so far this season, and the pair managed to execute it twice more tonight. The second came with just over a minute left in the first half, as the pair lined up for a pick-and-roll on the left side before Garnett dove back to the hoop and displayed some youthful athleticism as he rose up to throw down Rondo's pinpoint pass.
DOC SWITCHES STARTERS
Admitting to reporters prior to the game that he was "searching," Celtics head coach Doc Rivers elected to shuffle his starting lineup, inserting Bass and Jason Terry in place of Jared Sullinger and Courtney Lee. Though the unit had marginal success in the opening frame (the Celtics didn't exactly explode out of the gate), it did show potential at the start of the second half. Trailing by three heading into intermission, the group, on the strength of two Terry 3-pointers helped claw Boston back and eventually take a seven-point edge. Though Milwaukee mounted a mini-rally of its own to take a lead going into the fourth, there were still positive signs from that particular group.
GREEN EMERGES LATE
Green has dealt with his fair share of inconsistent play this season, and public scrutiny as a result, but he persevered through a 3-of-8 shooting night to finish with 12 points and three rebounds. He scored eight of his 12 in the fourth quarter, kicking things off with two sweeping layups. He then came back on the other end, chasing down the Bucks in transition and eventually swatting away a Mike Dunleavy layup attempt that would have tied the game at 74. He then put in a crucial jump hook with a minute and a half remaining, putting Boston up five, and helped end Milwaukee's run with his late strip on Ilyasova.
RONDO'S STREAK REMAINS
It wasn't as easy as it's been in past outings, but Rondo registered double figures in assists once again. Saturday's game marked the 30th consecutive time Rondo has had at least 10 assists, good for the third-longest streak in NBA history. He now trails John Stockton (37) and Magic Johnson (46) for the all-time record.
WHAT IT MEANS
Rivers said he'd take ugly wins as his team works through its ongoing chemistry/cohesion issues, and Saturday's game certainly fit that bill. After slogging through a murky first half in which they shot just 35 percent and turned the ball over 10 times, the Celtics responded with a hard-fought effort in the fourth quarter, refusing to fold as Milwaukee's offensive weapons, particularly Ellis, caught fire. The C's received important contributions from a host of players, including Green, who had to get a bit of a confidence boost after his best outing of the season. Rivers went with some unorthodox and sparsely used lineups during the fourth quarter, but it's all a part of the ongoing effort to find units that are able to work together. Despite not playing their best ball still, the Celtics can hold their heads high, enjoy the win and a day off Sunday, and gear up for a showdown with a tough Chicago Bulls team on Monday.