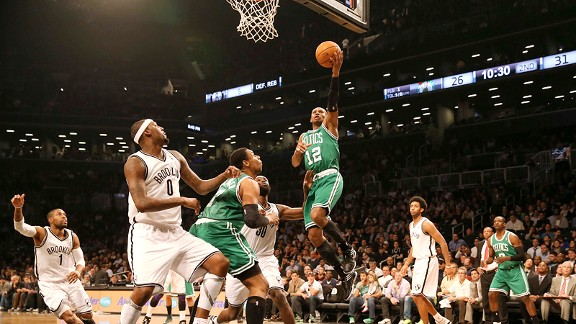 Anthony Gruppuso/US Presswire
Leandro Barbosa (12) took Rajon Rondo's spot in Boston's starting lineup.Rapid reaction after the Brooklyn Nets defeated the Boston Celtics 102-97 Thursday night at the Barclays Center:


THE NITTY GRITTY
Deron Williams and Brook Lopez scored 24 points apiece, while Joe Johnson added 19 points and Kris Humphries kicked in a double-double (10 points, 13 rebounds) to pace the Nets, who shot just 42.4 percent from the floor but benefited from a whopping 18 offensive rebounds (and 19 second-chance points). Paul Pierce scored a team-high 22 points for Boston, 11 of which came in the third quarter when he sparked a monster rally, but some uncharacteristic late-game missteps by the captain prevented the Celtics from having a real chance to steal this one. Playing without Rajon Rondo (ankle), Leandro Barbosa started and scored 17 points, while Kevin Garnett (14), Courtney Lee (13) and Jason Terry (10) also landed in double figures in scoring for Boston.
TURNING POINT
After rallying out of a 13-point, third-quarter hole, the Celtics opened an 85-80 lead with 7:57 to play after consecutive buckets by Garnett. Boston went ice cold, however, and Brooklyn scored 13 of the game's next 15 points over a six-minute span to take a 93-87 advantage. The Celtics nearly came back again, but a Pierce layup spun off the rim while he was fouled in a three-point game with 34 seconds to go. Pierce then absent-mindedly committed a free throws-inducing foul with 29 seconds to play that helped the Nets put the game away.
A GAME OF RUNS: BROOKLYN FIRST, CELTICS THIRD
Brooklyn came flying out of the gates, making seven straight shots over a four-minute stretch early in the first quarter as it opened an 11-point lead (19-8). The Nets absolutely dominated the glass -- heck, Brooklyn had more offensive rebounds (15) than Boston had defensive rebounds (11) at the intermission -- and yet Boston hung around. The Celtics embarked on a 20-2 run in the third quarter while erasing a 13-point deficit and carried a five-point lead into the final frame.
LOOSE BALLS: COLLINS' FIRST ACTION
Veteran 7-footer Jason Collins saw his first action of the 2012-13 season, earning some early court time when Chris Wilcox endured foul trouble late in the first quarter. Collins scored two points and grabbed a rebound over 8:18, but his defense looked (predictably) rusty... Rivers did not go to fellow big man Darko Milicic, who earned another DNP -- Coach's Decision... Wilcox played a spirited 12:31 of floor time and was plus-16 in a game Boston lost by five... Tough night for Brandon Bass, who was 4-of-14 shooting for eight points, but was a team-worst minus-23... Keith Bogans committed a hard foul on Barbosa late in the first half, but escaped a flagrant upon video review. That decision likely surprised Boston, especially given how similar the foul looked to Rondo's flagrant-1 against Dwyane Wade in the season opener in Miami.
WHAT IT MEANS
Playing without Rondo, the Celtics simply didn't have enough on the second night of a back-to-back. Boston played hard in bursts, but also endured some maddening lulls (whether it was a defensive disappearance in the first quarter, or the offensive woes of the fourth frame). Pierce's head-slapping sequence late in the game showed just how off the Celtics were at times and he could be seen taking the blame for the miscues on the Boston bench. The Nets showed they've got enough pure talent, particularly in a starting 5 that was without Gerald Wallace, to be a contender in the Atlantic Division. The Celtics, in the midst of playing five games in seven nights, will have an off day Friday before diving into another back-to-back that includes hosting the Raptors in a Saturday matinee at TD Garden before traveling to Detroit on Sunday night.