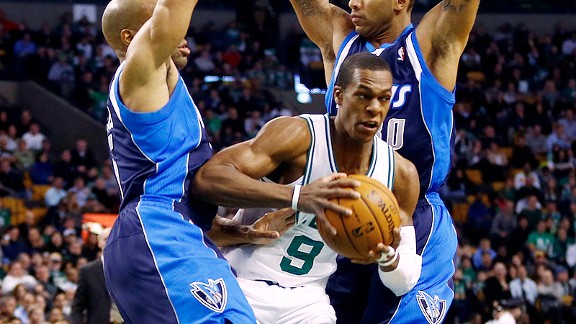 Jared Wickerham/Getty Images
Rajon Rondo navigates his way through traffic against the Mavericks.BOSTON -- Rapid reaction after the Boston Celtics defeated the Dallas Mavericks 117-115 in double overtime on Wednesday night at TD Garden:


THE NITTY GRITTY
Paul Pierce scored a game-high 34 points on 11-of-25 shooting with 6 rebounds, 4 steals and 3 assists. His biggest bucket might have been a 3-pointer at the start of the second overtime (and he hit four big free throws in the final moments of the second extra session to help finally seal the win). Rajon Rondo flirted with an extra-time triple-double, putting up 16 points, 15 assists and 9 rebounds. Jason Terry registered 10 points on 3-of-10 shooting and might have been a little overhyped against his former squad. O.J. Mayo scored a team-high 24 points on 10-of-19 shooting for the Mavericks, while Darren Collison scored 20 points on 8-of-11 shooting off the bench.
TURNING POINT 1: BOSTON BUILDS A LEAD
In a two-possession game early in the third quarter, the Celtics embarked on an 11-2 run to give themselves a little breathing room. Garnett lit the fuse with a 19-foot jumper and a Brandon Bass steal led to a Terry 3-pointer. Bass produced two easy buckets -- sandwiched around a Dallas timeout that couldn't stem the momentum -- with a putback and a driving dunk for a 65-52 lead with 6:36 remaining in the frame. But the Mavericks wouldn't go quietly ...
TURNING POINT 2: A 140-SECOND GAME
Dallas seemingly couldn't get over the hump, but back-to-back layups by Mayo and Darren Collison tied the game at 92 with 2:40 to play. Fast-forward to the closing moments: Rondo managed to poke the ball free as Mayo attempted a late drive, registering a steal that gave Boston the ball with 6.9 seconds to go. Rondo, however, couldn't even get off a quality shot at the buzzer as his 20-foot step-back was blocked by Derek Fisher.
TURNING POINT 3: OT -- PIERCE CAN'T WIN IT
In a back-and-forth battle, Rondo drove baseline and kicked to Garnett in his sweet spot for an 18-foot jumper and a 105-103 lead with 26 seconds to go. At the other end, Mayo blew past Rondo and finished between Pierce and Garnett to tie the game with 11.1 seconds to play. This time around it was Pierce who couldn't get off a quality shot, draped by Dahntay Jones at the right elbow.
TURNING POINT 4: DOUBLE OT
A Pierce 3-pointer to open the second extra session was the only Boston bucket over the first 4½ minutes, but it was enough to keep the Mavericks at arm's length. The Celtics were up a point when Rondo completed a driving layup and Pierce added a free throw soon after to put Boston up four with 17.3 seconds to go. Even Boston couldn't mess that up.
KG'S REBOUND SHUTOUT ENDS
After being shut out on the glass during Saturday's win over the Philadelphia 76ers, Garnett didn't get his first rebound of the game until two minutes into the second quarter on Wednesday. Dating back to a rebound in overtime against the 76ers on Friday, he ultimately went 62 minutes, 41 seconds without a rebound. Here's a bit more from Elias Sports Bureau: Garnett's shutout on Saturday ended his streak of 1,159 consecutive regular-season games with at least one rebound. That had been the longest current streak for any active player. Tim Duncan now has the longest active streak, having collected at least one rebound in all of his 1,132 career games. The Mavericks' Shawn Marion has the second-longest active streak behind Duncan at 951 games.
WHAT IT MEANS
Well, that was ugly. No, seriously, burn the game tape. Then burn it again. But a Boston team focused on putting wins together now has two in a row and it doesn't matter how ugly it was nor that it came against the Dirk Nowitzki-less Mavericks. The Celtics were certainly not complaining about the absence of Nowitzki, who sat courtside for the game as he rehabs from knee surgery. According to Elias Sports Bureau, since the start of the 1998-99 season (Nowitzki's rookie year), the Celtics were 7-19 (.269) against the Mavericks. That matches Boston's worst mark against any opponent over the past 15 seasons. Dallas had won the past four games before Wednesday's meeting. Bottom line: The game probably never should have been as close as it was. The Mavericks committed 28 turnovers leading to 30 points, but Boston just couldn't get out of its own way (missing 3-pointers and bunnies alike, and offering little resistance when Dallas rallied). The Celtics now depart on a three-game road trip with stops in Houston, San Antonio and Chicago before the team returns home to welcome Cleveland next Wednesday night.