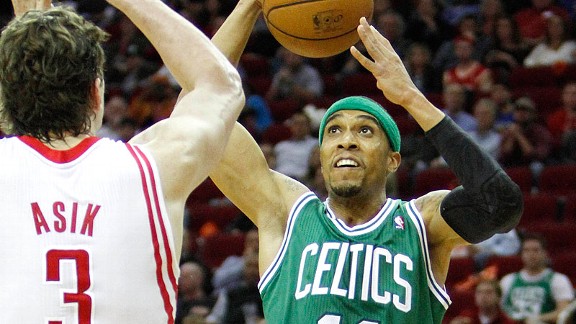 Brett Davis/USA TODAY Sports
Courtney Lee started against his former team in Houston on Friday night.Rapid reaction after the Houston Rockets defeated the Boston Celtics 101-89 on Friday night at the Toyota Center:


HOW THE GAME WAS WON
Second-year power forward Greg Smith came through with 20 points on 8-of-9 shooting in 22 minutes off the bench for the Rockets, and he was joined in double figures by James Harden (21 points), Chandler Parsons (15 points, 9 rebounds, 8 assists) and Toney Douglas (11 points). Paul Pierce led the Celtics with 18 points and 7 rebounds, while Rajon Rondo added 15 points and 13 assists.
TURNING POINT
A messy third quarter on the defensive end from the Celtics undermined the two-point halftime lead they gained after crawling out of an early 13-point hole. Houston dropped 32 points in the third quarter to Boston's 25 and carried a 75-70 edge into the fourth quarter. The Rockets' lead bounced between five and eight points for the first half of the fourth quarter, but a 3-pointer from Douglas with 2:52 to play put Houston up 96-85. C's coach Doc Rivers waived the white flag shortly after, electing to get his key guys a few extra minutes of rest with the second game of a back-to-back coming up Saturday night in San Antonio.
LEE GETS THE START
Rivers elected to re-insert Courtney Lee into the starting lineup, placing Jason Terry back into his more customary bench role. It was Lee's first start since Dec. 1, when he filled in for a suspended Rondo. Lee said earlier in the week that a return to Houston -- where he played last season -- wouldn't be personal to him, but he seemed to play with a considerable edge. He came through on both ends of the floor, playing solid defense on Harden at times to go along with 8 points, 3 rebounds, 2 steals and a block.
BOLD PLAY OF THE GAME
Jeff Green delivered another of his highlight-worthy dunks midway through the second quarter. This time, Rondo came up with the steal and patiently waited just outside the lane as his teammates streaked back up the floor. As Green hurried forward, Rondo slid him a pass and Green skied up just inside the painted area and delivered a thunderous right-handed slam.
UNSUNG HERO
Terry, coming off the bench for the first time in weeks, found himself in a steady shooting groove from long range for the entire game. He scored all 12 of his points on 3-pointers, knocking down four of his eight looks. Most of Terry's 3s came at a point when Boston desperately needed a bucket, though he couldn't help to stop Houston's late run.
WHAT IT MEANS
Even though Boston fought back out of an early first-quarter hole, it couldn't string together a consistent level of effort, and as such, suffered another frustrating loss. It's possible the Celtics were still recovering from their double-overtime victory over the Mavericks on Wednesday, which saw most of the team log heavier minutes than usual. Without question, the Celtics wanted to kick off this three-game road trip with a win, on top of already searching for a longer winning streak, but they couldn't dictate the game defensively. For better or worse, the C's won't have long to think about their latest back-and-forth effort, with a date with the Spurs set for Saturday night. Boston will just have to accept the loss, move on and hope to deliver a more spirited effort in San Antonio.