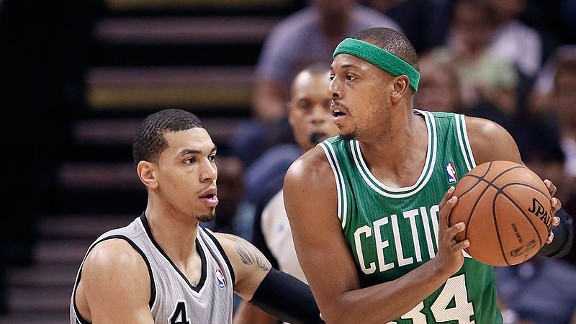 Soobum Im/USA TODAY Sport
Paul Pierce and the Celtics were left frustrated in San Antonio.
Rapid reaction after the San Antonio Spurs defeated the Boston Celtics 103-88 on Saturday night at the AT&T Center:


THE NITTY-GRITTY
Tony Parker scored a game-high 22 points on 8-of-14 shooting to go along with eight assists, while Gary Neal added 20 points on 7-of-13 shooting to pace the Spurs. Paul Pierce and Jason Terry had 18 points apiece to lead Boston, which put five players in double figures but let up for a brief instant in the third quarter and the Spurs raced away with the game.
TURNING POINT
Boston seemingly was stuck in catch-up mode the entire night. The Celtics finally pulled even three minutes into the third quarter, only to let off the gas for just long enough for the Spurs to open a double-digit lead. San Antonio embarked on an 11-0 run that started with 3-pointers from Neal and Danny Green. A second triple by Green had the Spurs on top 66-55 with 6:45 to play in the third quarter, and Boston was playing from behind yet again.
FREE THROW DISPARITY
The Celtics were enraged after shooting a mere eight free throws (making six of them). The Spurs were whistled for 12 fouls (half of which came over the final 13½ minutes). Boston endured 20 personal fouls, and San Antonio finished 15-of-20 at the charity stripe.
GINOBILI DEPARTS IN FIRST HALF
Spurs reserve guard Manu Ginobili departed in the second quarter with a left quad contusion and did not return. Ginobili crumpled to the ground after absorbing a hard (but illegal) screen from Chris Wilcox. Ginobili had three points in four minutes, but San Antonio's deep bench spread out its contribution in his absence.
WHAT IT MEANS
The Celtics drop to 12-11 after losing both ends of a Texas back-to-back. While they were far more competitive than during Friday's game in Houston, they simply took their eyes off the road for a bit and San Antonio left them in the dust. The Celtics must brush themselves off and will have consecutive off-days before visiting the Bulls on Tuesday night to close out this three-game road trip. All the optimism that surrounded Boston following back-to-back wins before this trek has given way to head-shaking gloom with the team in danger of falling to .500 if it can't close out the trip with a win against the Bulls.