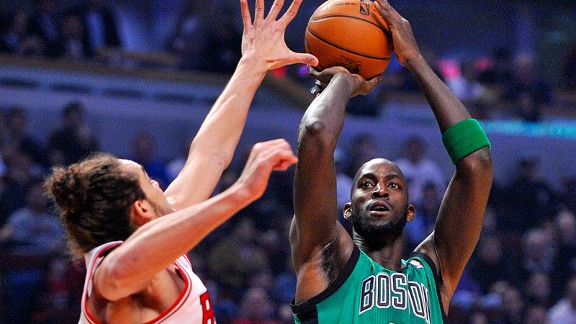 Rob Grabowski/USA TODAY Sports
Kevin Garnett shoots over Joakim Noah on Tuesday night.Rapid reaction after the Chicago Bulls defeated the Boston Celtics 100-89 on Tuesday night at the United Center:


THE NITTY GRITTY
Joakim Noah registered his second career triple-double (11 points, 13 rebounds, 10 assists), while Carlos Boozer and Luol Deng chipped in 21 points apiece for the Bulls. If that wasn't enough, old friend Nate Robinson erupted for 18 points off the bench, hitting five 3-pointers, including some fourth-quarter daggers that turned this into a laugher. Heck, Robinson singlehandedly outscored Boston's entire bench (16 points). Rajon Rondo finished with a game-high 26 points on 9-of-18 shooting with eight assists, while Paul Pierce added 16 points for Boston.
TURNING POINT
Despite trailing by as much as 13 in the first half, the Celtics whittled their deficit down to three on multiple occasions in the third quarter, including once with less than four minutes to play in the frame. But after Boston pulled its Big Three off the floor for late-quarter rest, the Bulls produced a 9-0 run that culminated with a Taj Gibson layup for a 79-67 lead. Boston never got closer than eight in the fourth quarter and trailed by as much as 21.
COLLINS SIGHTING!
Jason Collins, a healthy DNP the last six games and 19 of Boston's first 23 contests, saw a rare burst of floor time late in the third quarter after Chris Wilcox took a forearm to the face and needed to come off the floor. Collins humorously appeared to stand up and run onto the floor from the end of the Boston bench and the 12th-year veteran was quickly redirected to the scorer's table to appropriately check in. Collins provided some solid defense and finished scoreless with five rebounds over 12 minutes.
WHAT IT MEANS
While maybe not Boston's most lackluster effort of the season, it's hard to suggest this isn't as low as things have gotten. Boston (12-12) dipped to .500 by enduring its third consecutive loss on a disastrous road trip that previously featured double-digit losses in Houston and San Antonio. A 10-0 run to close out Tuesday's game made the final spread easier on the eyes, but make no mistake, a well-rested Celtics squad got hammered by a Chicago team that played Monday night in Memphis. Maybe more discouraging is the fact that Chicago's anemic offense put up triple digits on Boston, a sign that the Celtics have regressed defensively after some progress was shown earlier in the month. Boston treks home to host Cleveland in the second night of a back-to-back on Wednesday at TD Garden.