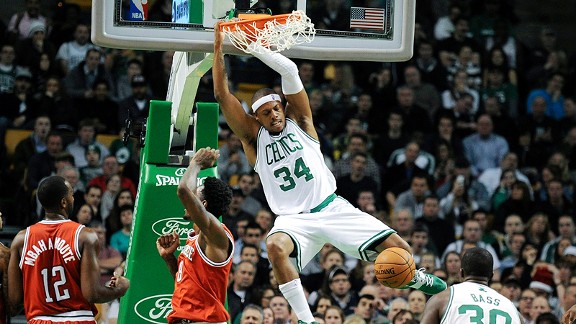 Bob DeChiara/USA TODAY Sports
Paul Pierce finishes a first-half baseline slam against the Bucks.BOSTON -- Rapid reaction after the Milwaukee Bucks defeated the Boston Celtics 99-94 in overtime on Friday night at TD Garden:


THE NITTY GRITTY
Paul Pierce followed up his 40-point outing in Wednesday's triumph over the Cavaliers by scoring a game-high 35 points on 13-of-23 shooting with 12 rebounds, five assists and three steals as he single-handedly carried the Celtics and helped spark an improbable comeback in the final seconds of regulation. Alas, the rest of the Celtics were simply off on this night, and the Bucks did enough to emerge in overtime. Monta Ellis scored a team-high 27 points, while Larry Sanders was a menace yet again, chipping in 17 points (on 8-of-10 shooting) with 20 rebounds. Kevin Garnett (6-of-22, 12 points) and Jason Terry (1-of-15 shooting, 4 points) just didn't have their shots as Boston shot 38.3 percent overall.
TURNING POINT
The Celtics closed out the final 3:46 of the third quarter on a 10-2 run sparked by defense. Boston forced four turnovers which turned into six points, and a Courtney Lee layup (off a Rondo steal) in the final second of the frame had Boston out front, 70-62. But the Celtics offense went ice cold, and the Bucks quickly rallied ahead early in the fourth quarter. The Celtics were down five with under four minutes to go when Pierce somehow willed in a 3-pointer in traffic to give his team a much-needed spark. Boston had multiple chances to tie, but Ellis produced a floater over Brandon Bass, and Sanders followed with a vicious alley-oop slam in transition as the Bucks went up seven with 42 seconds to play. That should have been enough, but ...
TURNING POINT II: IMPROBABLE COMEBACK
A pair of Pierce freebies (and two missed by Milwaukee) started Boston's comeback, which also featured a Jeff Green alley-oop from Rondo and a big defensive stand (Rondo stole a Jennings feed with nine ticks to go) to set the stage for Pierce's 3-pointer (a Green rebound of a Terry miss gave Pierce the second-chance attempt). But was it all for naught ...
TURNING POINT III: OVERTIME
Back-to-back buckets by Ellis -- sandwiched around four consecutive misses for the Celtics -- helped the Bucks pull away in overtime. An offensive rebound -- allowed off a missed free throw -- in a one-point game essentially spelled Boston's demise in the final moments.
GREEN INJURED
Chasing a defensive rebound with 18 seconds remaining in overtime, Green took an elbow to the head from Ersan Ilyasova and needed medical attention from the team's training staff. He walked off hunched over with a towel over his face.
LOOSE BALLS: RONDO GETS A TECH
Rondo earned a technical foul -- his third of the season and first since being ejected versus Brooklyn -- for jawing at Brandon Jennings after a timeout call early in the first quarter. Rondo now leads the team with three technical fouls overall. ... Jared Sullinger (four points, seven rebounds) fouled out with 6:53 to play in regulation. Sullinger was the victim of some rookie whistles, including a couple blocking fouls that could have been charges.
WHAT IT MEANS
The roller coaster continues. Doc Rivers likes to note it's a make/miss league, and the Celtics couldn't get much of anything to fall (at least those not named Pierce). The Bucks win the four-game season series, 3-1, which could aid Milwaukee later in the season. The Celtics get three days of rest before a four-game road trip kicks off with a Christmas Day matinee in Brooklyn, then shifts out West to close out the calendar year.