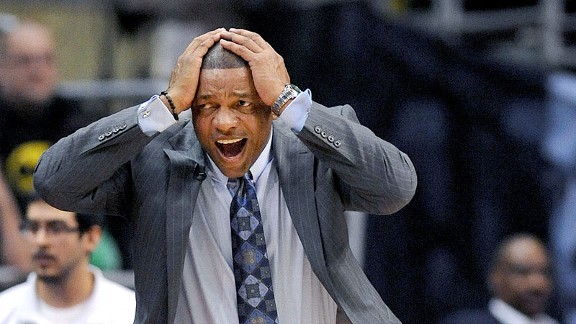 Jayne Kamin-Oncea-USA TODAY Sports
Doc Rivers hasn't liked what he's seen during this West Coast trip.While Celtics head coach Doc Rivers downplayed his team's near 30-point loss to the Los Angeles Clippers on Thursday night, he was a bit more critical after Boston endured another double-digit loss on Saturday night with a 101-83 defeat at the hands of the Golden State Warriors.
The Celtics were at serious fault on both sides of the ball, allowing Golden State to shoot 52.1 percent from the field while managing to make just 36 percent of their own shots. The absence of Rajon Rondo (hip/thigh) was evident, as the likes of Paul Pierce, Jason Terry and Jeff Green all had to work a bit harder for their shots, and the trio combined to shoot 12-for-50 from the floor (24 percent).
Rivers said he would have preferred to see his players elect for more inside shots against the Warriors' bigs, particularly when it became clear midway through the game that no one was in any sort of steady shooting rhythm. Instead, the Celtics again preferred the perimeter, finishing with just 30 points in the paint -- only a slight improvement over the 26 they scored down low against the Clippers on Thursday.
"We had 1,000 open shots tonight. A lot of them were jump shots," Rivers told reporters in Oakland. "And at some point, I thought, you've got to penetrate and take it to the basket. They don't have a lot of shot-blocking, and we didn't do that. But it's hard to tell a shooter not to shoot an open shot. So, as a coach, you're kind of stuck. You let them keep taking them and you hope that some go in, and they didn't."
If only offense was the Celtics' sole problem Saturday. Golden State opened its first double-digit lead a little over five minutes into the game, and Rivers wasn't pleased with how easy some of the Warriors' early shots were.
"[The Warriors] made shots. They made a lot of shots that were contested," Rivers said. "You know, but they made a lot of shots that were uncontested, too, and that's what bothered me early on. I think their first four baskets were guys standing there with no hands up."
Similar to the Clippers on Thursday, the Warriors didn't score an excessive amount of fast-break points Saturday -- just 12 to Boston's 10 -- but Rivers once again wasn't pleased with Boston's transition defense.
"We talked about [transition] going into the game," Rivers said. "In transition, I know four times in the first half, we just didn't account for an open guy in transition defense. And that's what they want, and we gave it to them."
The Celtics dipped back below the .500 mark (14-15) with Saturday's loss, putting a greater emphasis on Sunday's road trip finale against the Sacramento Kings. Boston will look to salvage the trip with a 2-2 record and get back to .500 as it continues its search for that ever-elusive consistency this season.