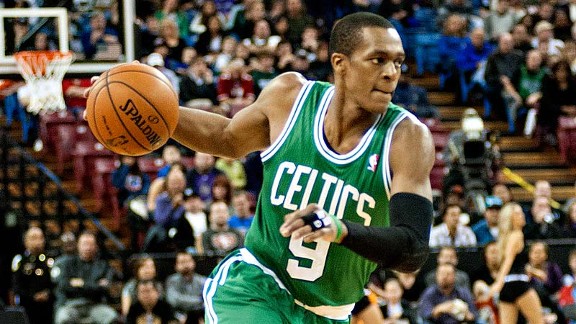 Ed Szczepanski/USA TODAY Sports
Rajon Rondo was back on the floor for Boston on Sunday night.Rapid reaction after the Sacramento Kings defeated the Boston Celtics 118-96 on Sunday night at Sleep Train Arena:


THE NITTY GRITTY
Isaiah Thomas scored a game-high 27 points on 10-of-15 shooting, most of his buckets coming near the rim when Boston offered little resistance on his drives to the basket. John Salmons (23 points on 9-of-12 shooting) and Jason Thompson (20 points on 8-of-11 shooting) were ultra efficient from the floor and big man DeMarcus Cousins quietly posted a triple-double with 12 points, 10 rebounds and 10 assists over 31 minutes for the Kings. Sacramento shot 53.7 percent overall and 50 percent (10 of 20) from beyond the 3-point arc. Paul Pierce and Jason Terry scored 20 points apiece for Boston, while Rajon Rondo -- back in the lineup after a one-game absence due to a hip/thigh injury -- finished with just two points (1-of-6 shooting) to go along with 10 assists over 36 minutes (he was a team-worst minus-25 in plus/minus).
TURNING POINT
The Celtics played from behind for the entire second half, but managed to claw within a possession a couple of times during the third quarter. Any hopes of a trip-saving comeback were dashed as the Kings shot a blistering 63.2 percent in the fourth quarter, making seven of the nine 3-pointers (77.8 percent) they hoisted and tearing the game open while sending Boston to its third consecutive defeat by at least 18 points.
CELTICS DIG ANOTHER EARLY HOLE
Keeping with the recent trend, the Celtics were staring at a double-digit deficit in the first quarter on Sunday. This time around, a 12-1 burst turned a one-point lead into an 18-8 deficit. The Kings ate up Boston inside, scoring 22 of their 24 first-quarter points inside the paint (the other two points came off free throws).
BARBOSA BACK; PIERCE TWEAKS ANKLE
After enduring 16 hours of travel going from his native Brazil to Sacramento, Leandro Barbosa got a little late-game playing time after a four-game absence while tending to a family matter. Barbosa played the final four minutes. Pierce sat the final five minutes after appearing to tweak his right ankle when he landed on Thomas' foot while fouling him during a made 3-pointer.
WHAT IT MEANS
It's getting harder to suggest patience with this team and, at the moment, Boston is playing atrocious basketball. The Celtics were downright manhandled over the final three games of a four-game road trip that started so promisingly with a Christmas Day victory in Brooklyn. Boston offered little resistance when the Kings went inside (56 points in the paint) and Sacramento got hot from the perimeter in the fourth quarter to run away. This Celtics group can't usher in the new calendar year fast enough. Boston will take the next two days off while returning home for games against Memphis (Wednesday) and Indiana (Friday). Guard Avery Bradley, shelved since shoulder woes ended his 2011-12 season in May, is expected to make his season debut on Wednesday. The Celtics need something -- anything -- to give them a jolt and it will be interesting to see if Bradley's return is enough to get this team moving in the right direction.