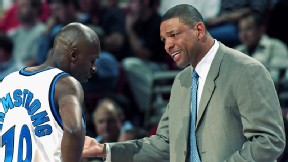 Fernando Medina/NBAE/Getty Images
Doc Rivers with Darrell Armstrong during his days in Orlando.WALTHAM, Mass. -- Rajon Rondo admits he doesn't take losing particularly well. After all, the Celtics haven't lost all that much during the Big Three era, particularly not for extended stretches. Before this season, Boston had endured only three other streaks of at least four consecutive losses (including two five-game skids last year).
Marred in a four-game losing streak at the moment, Rondo doesn't see many silver linings.
"I'm a sore loser and it's tough to lose," he said.
That declaration triggered some discussion at Thursday's practice with Rondo and coach Doc Rivers discussing the different ways that players handle losing. Rivers bristled at the suggestion that anyone should read too much into the body language of his players after defeat.
"Honestly, I don't look, I don't notice," said Rivers. "I don't know what [getting upset] does, you still gotta learn from losing and learn from wining at the same time. Clearly there are guys that take it more emotional than others, that doesn't mean the other guys don't take it just as poorly. I've learned a long time, you don't read into that."
Rivers pointed to happy-go-lucky rookie Jared Sullinger and stone-faced Jeff Green as examples of players that are nearly impossible to read.
"[With Sullinger,] you'd be wasting your time, and Jeff is the same way," said Rivers. "But you can see it on Kevin [Garnett], you can see it on Rondo. Thats why you don't try to read into how guys take losses. Some guys shake off losses by laughing, and trying to get to another universe. Other guys want to stay in the loss."
Rivers then relayed how hard former player Darrell Armstrong took defeats when Rivers coached him in Orlando.
"I've never had a player like that. He cried 30 times -- no exaggeration -- regular-season losses and he meant it," said Rivers. "It wasn't a joke. I've never seen a guy -- Kevin is close to that emotional, but not to that level. I've never seen anything like that. I'm talking about where there were times you had to take him out of the locker room. I've never seen anything like that. Next day, he's up and ready. That's not at all bad."
So Rivers doesn't mind an emotional response to losing?
"I don't mind that in a guy, but I don't expect that from everyone," he said. "I just think everyone has a different emotion. Darrell was extremely emotional. He would do it in games and we'd have to be like, 'C'mon, settle down a little bit here.' But it was because he wanted to win so bad, sometimes it got in his way."
Asked how he's changed emotionally from his playing days to coaching, Rivers kept it light.
"I don't fight as much, that's for sure. I haven't had a fight as a coach," joked Rivers. "I think I'm less emotional, and I'm emotional as a coach, but I think I'm less emotional as a coach. I think you almost have to be."
Rondo, who has been known to turn the children's game Connect4 into a table-pounding battle, said it comes down to the sheer desire to win every sort of competition he's involved in.
"Some teams are OK with losing, some guys are OK with just getting a check," said Rondo. "But everything I do, I compete. I want to win, so this four-game losing streak is frustrating. But you go through adversity throughout the season. This might be the first time we've had a four-game losing streak, but we've had three in the past a lot of times, so it's nothing to get too down about. It's a long season. I'm staying positive. I haven't lost faith or hope in this team and I still have high expectations, and I know we will turn it around."
Boston has actually endured 11 total streaks of at least three consecutive losses during the Big Three era, including two this season. Are there enough sore losers in Boston's locker room?
"I can only judge myself," he said. "It's my New Year's resolution -- I don't want to judge anybody this year. I'm going to look at myself and just try to get better."