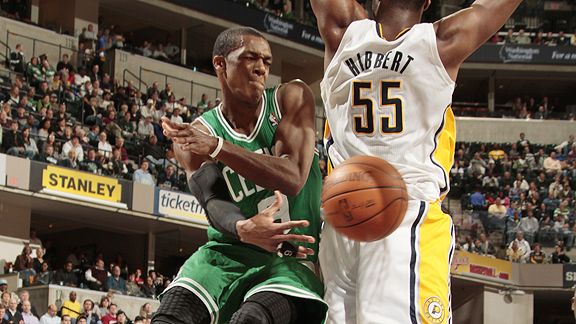 Ron Hoskins/NBAE/Getty Images
Rajon Rondo and the Celtics will be looking to get around the Pacers.The Boston Celtics (14-17, 9-6 home) host the Indiana Pacers (19-13, 8-10 road) on Friday night at TD Garden (8 p.m., CSN). Here's what to watch for:


* C'S NEED AGGRESSIVE RONDO: Even as Rajon Rondo fights through a hip bruise, Celtics coach Doc Rivers implored his point guard recently to be more aggressive. That's a two-part process as Rivers stressed Thursday how Rondo's movement away from the ball is as key to the offense as attacking with the ball in his hands. "When Rondo has the ball, he has to be an aggressive scorer. But the area that Rondo really has to improve is when he doesn't have the ball and teams are just loading up and helping," said Rivers. "He has to be a better picker and a better cutter. Otherwise, it makes it difficult for Paul Pierce] and the other guys to score. That's the area where Rondo has to improve in and he's working on it." Consider this: According to Synergy Sports data, Rondo has finished only five total plays (or 1.2 percent of his total play output) as a cutter this season, connecting on 4 of 5 shots for eight points.
* SYNERGY SNAPSHOT: The Pacers are the top-ranked defense in the league in allowing a stingy 0.862 points per play, according to Synergy data. Outside of David West (0.728 ppp, 90th percentile), none of Indiana's individual defensive numbers pop off the page, but the Pacers play solid team defense, allowing opponents to shoot a mere 34.3 percent in spot-up opportunities. The Pacers are susceptible to pick-and-roll ball-handlers (take note, Rondo) and cutters (hey there, Avery Bradley), but rank first in the league in transition defense. Offensively, it's a much different story. The Pacers rank 28th overall (0.875 ppp) and are league average or worse in their top eight play types. George Hill (0.97 ppp, 76th percentile) is the team's most efficient scorer, while Roy Hibbert is at the opposite end of the spectrum (0.732 ppp, 17th percentile).
* OPPORTUNITY FOR C'S DEFENSE: Let's face it, the Pacers are a rather dreadful offensive team, ranking 28th in offensive rating (98.4), 30th in turnover percentage (16.5), and 27th in pace (92.61). This is an opportunity for Boston's defense to build some much-needed confidence so long as the Celtics are competitive on the glass. For a Boston offense that stalled at times in the second half against the Grizzlies on Wednesday, this is another tough test and the Celtics have to be aggressive going at the basket if their perimeter shooting goes cold.
* THE HUNT FOR 48 MINUTES: It keeps coming back to this: The Celtics need 48 sustained minutes of effort if they are going to get out of this funk. This team has wilted in the face of adversity lately and Rivers might need to be quick with timeouts if Indiana threatens to open the game up at any point early on. Boston has a tough second night of a back-to-back looming Saturday in Atlanta. The Celtics own only two other five-game losing streaks during the Big Three era (both came last season).