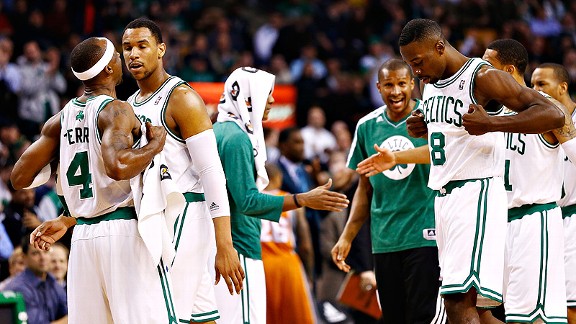 Jared Wickerham/Getty Images
Boston's bench has given the team plenty to celebrate recently.WALTHAM, Mass. -- The Celtics' bench -- much like the team as a whole -- has been striving for consistency all season, but legitimate signs of progress were often marred by injuries and rotation shakeups over the first 30 games of the 2012-13 campaign.
With Avery Bradley now back in the fold and the team almost completely healthy (Chris Wilcox, nursing an injured right thumb, returned to practice on Sunday), the likes of Jason Terry, Courtney Lee, Jeff Green, and Jared Sullinger are establishing more solidified roles, and the last three games have seen Boston's reserves come through with arguably their finest production of the season.
In Boston's latest three victories -- all part of a larger five-game winning streak -- the bench has come through with an average of 42 points per game, providing the potent scoring output and support Rajon Rondo, Paul Pierce, and Kevin Garnett had been seeking the first two months of the season.
"I think they have a certain swagger about themselves right now that we're just following -- this kind of pattern right now, this beautiful pattern," Garnett said before practice on Sunday. "So, right now, I'm telling you, our bench is coming in and giving us unbelievable spark, so it's a good balance right now."
Though they had to fight off a late Houston run in their 103-91 victory over the Rockets on Friday, the Celtics opened things up in the second frame behind the play of a Terry-Lee-Green-Sullinger-Garnett lineup. Boston embarked on a 10-0 run midway through the quarter, with Green stuffing home two loud dunks and Terry and Lee each putting in a 3-pointer. Boston emerged from the scoring burst with a 13-point cushion.
Evident throughout the run was the swagger Garnett alluded to. The bench brigade -- or "Gangster Squad" as Terry has referred to them -- fed off of one another, channeling the momentum into better play on both ends of the floor.
"[The bench has] multiple ball-handlers and then you've got a tough, dirty work guy like Jared Sullinger on the inside that gives us a strong presence," Terry said. "So, we're scrappy. We're a scrappy bunch that knows how we like to play, and it's uptempo, and it's get in your face defensively."
Jeff Green expanded on the chemistry of the unit that was on display in Friday's victory.
"It's basketball, man. We love playing basketball," Green said. "And we know in order for us to do good on the court, we've got to play together. So, we're enjoying what we have, using all the weapons that we have. We're just maximizing it and just putting each other in the best position for this team to succeed."
Head coach Doc Rivers pointed to the defense of the bench for the recent turnaround, acknowledging that securing stops has allowed the unit to make use of its versatile and athletic components. By slowing opponents down on one end, the reserves have been able to speed things up for themselves.
"I think defense is No. 1," Rivers said Sunday. "Then their ball movement. They are spacing the floor. They run. We really have them -- if there's one word, it would be pace. They are playing at a great pace, and that's one of the things we've talked about every day and you can see they have that pace that we want to play at. And they understand, they want to play at that pace, but they finally understand you have to get actual stops on defense to play at that pace."
The defensive efforts of Terry, Lee, Green, and Sullinger have certainly been aided by Garnett's presence. Garnett has shared the floor with those four players for over 70 total minutes this season, and the unit has been outscoring opponents by an average of 44.4 points per 100 possessions, according to Basketball-Reference's lineup data.
But even with Garnett contributing to the bench's efforts on certain nights, he and the rest of the starters still reap the benefits of improved play from the reserves. Sometimes it results in fewer total minutes for Boston's first five, and sometimes it's just a greater weight off of their shoulders.
"[The bench has] been huge for us in this winning streak," Pierce said after Friday's win. "I mean, they've been not only able to sustain the lead, they've been able to come in and push leads. I'll come out the game and we're down three or four and then I come back in and we're up 10. So that's a lot of pressure off of me and the rest of the starters when you've got a bench that's playing so confident, playing great defense and moving the ball."
Terry and Green were in agreement Sunday that in addition to enjoying sharing the floor together, the reserves take pride in spelling the starters for longer stretches and are using it as motivation to continue their consistency.
"Those are our guys, those are our horses," Green said of the starters. "They're going to keep us in games, they're going to win games for us. We want them fresh, and in order for them to be fresh, we've got to continue to do what we're doing, and that's putting pressure on the opposing team and their second unit. I feel like with our second unit, we can start on any team in this league, and the way we've been playing, it's hurting the second units of opposing teams. So we've just got to continue to do that."