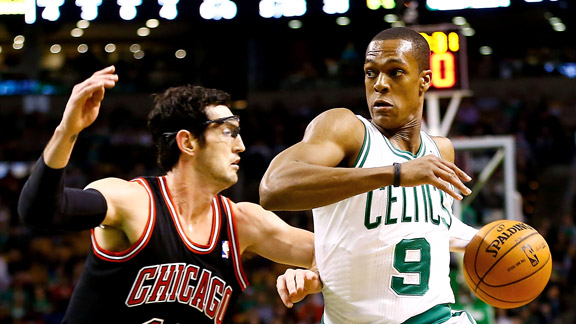 Jared Wickerham/Getty Images
Boston's Rajon Rondo drives to the basket during Friday's visit from the Bulls.BOSTON -- Rapid reaction after the Chicago Bulls defeated the Boston Celtics 100-99 in overtime on Friday night at TD Garden:


THE NITTY GRITTY
Marco Belinelli hit a desperation, 14-foot turnaround jumper with 3.1 seconds to play in overtime as the Celtics absorbed a stomach punch after fighting valiantly all night. In regulation, Rajon Rondo went into national-TV mode while scoring a season-high 30 points on 12-of-21 shooting with seven assists, two steals and two rebounds over 42 minutes before fouling out with 1:16 remaining in overtime. Jason Terry hit a couple of monster shots in overtime, including a go-ahead 16-footer with 12 seconds to play, but Belinelli spoiled it all. Richard Hamilton scored a team-high 20 points for the Bulls, who got monster double-doubles from Carlos Boozer (19 points, 20 rebounds) and Joakim Noah (14 points, 13 rebounds). Kevin Garnett registered 16 points and seven rebounds, while Paul Pierce added 13 points, six rebounds and three assists.
TURNING POINT I: BOSTON RALLIES AHEAD
Trailing the entire game -- and by as much as 10 -- the Celtics jumped on Rondo's back and forced a 74-74 tie after his finger roll with 7:03 to play. Boston finally surged ahead with a Rondo free throw with 4:37 to go, but it was a back-and-forth battle the rest of the way. Rondo worked a little elbow pick-and-roll with Garnett, and when Kirk Hinrich went under the screen, he splashed a 20-foot jumper for his 30th point and an 86-84 lead with 36.6 seconds to play. It should have been enough...
TURNING POINT II: C'S CAN'T LOCK IT UP
Boozer and Hinrich both missed the front end of two free throws, and the Celtics had a chance to salt the game away with a two-point lead and possession with 12 ticks to go. Instead, Rondo made a terrible decision to inbound the ball to Pierce on the sideline. He was immediately trapped, forcing a jump ball situation with Joakim Noah. The Bulls won the tip, hustled the other way and Hinrich hit a gutsy 15-foot jumper after scooping up a loose ball with two seconds to play. Boston couldn't generate a quality look and settled for an off-balance, off-target heave from Garnett at the end of regulation.
TURNING POINT III: BELINELLI LIFTS BULLS
The Bulls were down two with less than two minutes to go in the extra session, when Jimmy Butler converted an alley-oop feed from Noah, then added two freebies after drawing the loose-ball foul on Rondo that ended his night. The Celtics hung around and got possession with 20.6 seconds to go, down a point. Terry splashed his 16-footer, but it only set up Belinelli's heroics off a mad scramble to simply get up a shot as Boston's defense swarmed Chicago.
BULLPEN BARBOSA GETS A SPOT START
With Avery Bradley sidelined with a rib injury, Leandro Barbosa drew his second start of the season. He picked up two fouls in the first four minutes, limiting his floor time, but he finished with five points on 2-of-6 shooting with three rebounds and an assist over 14:44.
WHAT IT MEANS
It was one of the toughest losses the Celtics have absorbed this season. Boston fought throughout regulation and had the game pretty well in hand before Noah generated the late-game jump ball. The Celtics' defense had the Bulls bottled up on their final possession, but Belinelli willed in the tough jumper. The Celtics went 3-2 on a five-game homestand and now head out for a brief two-game trip with stops in Detroit (Sunday) and Cleveland (Tuesday) before another national TV battle with the visiting Knicks on Thursday.