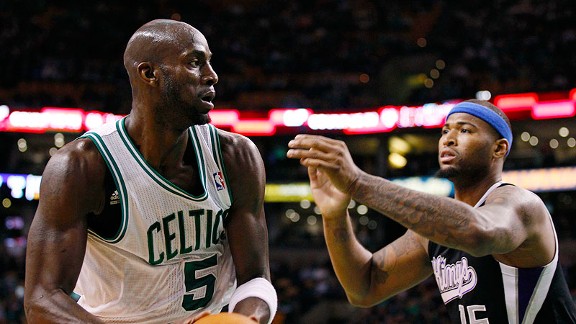 David Butler II/USA TODAY Sports
Kevin Garnett works against DeMarcus Cousins on Wednesday night at TD Garden.BOSTON -- Rapid reaction after the Boston Celtics defeated the Sacramento Kings 99-81 on Wednesday night at TD Garden:


THE NITTY GRITTY
Nothing like the lowly Sacramento defense to ease in a Rajon Rondo-less offense for Boston. The Celtics put six players in double figures, including Paul Pierce (16 points, 10 rebounds, 4 assists) and Kevin Garnett (13 points, 9 rebounds, team-high 5 assists). Boston got 12 points apiece from bench players Brandon Bass, Jeff Green and Jason Terry. Boston shot 53.4 percent (39-of-73) from the floor overall (this despite a slow start and a less-than-crisp finish after leading by as much as 28). For the Kings, Tyreke Evans scored a game-high 19 points with 11 rebounds, while DeMarcus Cousins added 13 points, 6 rebounds and 4 assists.
TURNING POINT
The Celtics absolutely dominated the second quarter, outscoring the Kings 37-14 in the frame. Boston made its first 14 shots from the floor and finished 16-of-20 shooting overall (80 percent). What's more, the Celtics got varied output with Green (8 points) and Terry (7 points) sparking the bench unit at the start of the frame. The Celtics' first missed shot of the quarter didn't come until Avery Bradley couldn't finish a layup with 2:29 to go and Boston had already opened a 54-36 cushion (this after trailing by 2 after the first quarter). The Kings were 5-of-18 shooting (27.8 percent) in the quarter and Boston turned seven Sacramento turnovers into 13 points. Hop HERE for a look at Boston's red-hot shooting chart, courtesy of ESPN Stats & Info.
SULLINGER (BACK) DEPARTS
Celtics rookie Jared Sullinger departed the game after a mere 4:08 of playing time due to back spasms and did not return. For more on the injury, hop HERE.
FLAGRANT FOR BARBOSA
Trying to prevent an easy layup on a breakaway, Leandro Barbosa got tagged with a flagrant-1 foul after Evans crashed hard to the floor in front of the stanchion. Barbosa sought out Evans after he got off the floor to make sure he was all right.
WHAT IT MEANS
Boston (22-23) improved to 2-0 since Rondo tore the ACL in his right knee and moved within one game of getting back to .500. The Celtics' defense limited Sacramento to 39.2 percent shooting (29-of-74) and was in complete control from the second quarter on. Boston turned the ball over 18 times -- typically a recipe for disaster -- but limited the damage (12 points) and survived without its only true ballhandler. It didn't hurt that Sacramento committed a whopping 19 turnovers for 24 points. The Celtics wrap up a four-game homestand with visits from the Orlando Magic on Friday and the Los Angeles Clippers on Sunday.