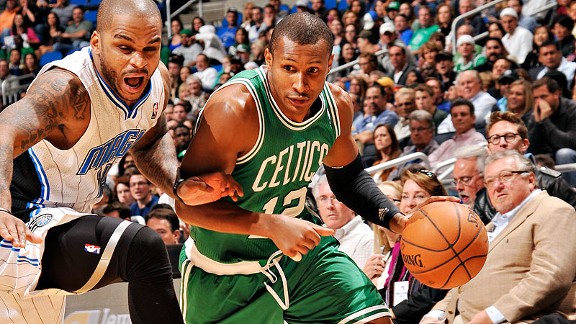 Fernando Medina/Getty Images
Boston's Leandro Barbosa drives against Orlando's Jameer Nelson.The Boston Celtics (22-23, 15-9 home) host the Orlando Magic (14-31, 6-15 away) on Friday night at TD Garden (7:30 p.m., CSN). Here's what to watch for:


* GONE BABY GONE: The Magic might have lost Glen Davis for the remainder of the season as he prepares to undergo surgery on a broken left foot sustained in Wednesday's game against the Knicks. Celtics coach Doc Rivers felt awful for his former player. "I hate that for anybody, especially for Baby, because he just came back from an injury," said Rivers. "Now he gets injured again, and he's having a heck of a year for them. You don't want that for anyone, but especially a guy that's played for me, that I care for. I don't want it to happen to him." Davis had been averaging career bests at 15.1 points and 7.2 rebounds over 31.3 minutes per game in 34 appearances.
* BUT THERE'S ANOTHER OLD FRIEND IN TOWN: The Celtics will get a chance to catch up with last year's second-round draft pick E'Twaun Moore, who was a casualty of the sign-and-trade deal that brought Courtney Lee to Boston over the summer. Moore emerged as an early season starter for Orlando, but has settled into a reserve role. In 38 appearances (seven starts), the 23-year-old guard is averaging 8.7 points, 2.5 assists, and 2.2 rebounds over 22.1 minutes per game. Boston had hopes of shaping him into a backup point guard behind Rajon Rondo this summer and lamented having to ship him out as part of the deal to bring back Lee.
* SYNERGY SNAPSHOT: Given the roster and management overhaul, it's no surprise the Magic have struggled this season. According to Synergy Sports data, their offense has actually been decent, averaging 0.917 points per possession, which lands the Magic at 16th overall in the league. Trouble is they are the worst transition offense in the league, rather inexcusable for a team with young legs. Orlando does rank in the top 10 in spot-up shooting (10th) and pick-and-roll ball-handler (8th) -- their two top play types -- but still rank only 17th in the league with a 100.9 offensive rating (points per 100 possessions). Defensively, the Magic rank 25th overall while allowing 0.949 points per play. Orlando is decent against spot-up shooting (9th), but struggles with just about everything else as you would expect from a young team.
* HEY J.J.: There was a persistent buzz that the Celtics had lusted over Magic sharpshooter J.J. Redick earlier this season, though their shooter-heavy guard rotation is clogged enough at the moment. Now the Celtics have to be focused on making sure Redick doesn't get hot and take over Friday's game (think Kyle Korver in Atlanta). Redick is averaging 15.4 points per game on 46 percent shooting overall. He's also shooting 40.5 percent beyond the 3-point stripe (and ranks fifth in the league in total 3-pointer field goals this season). With Davis sidelined, the Magic might lean even heavier on Redick for an offensive burst.