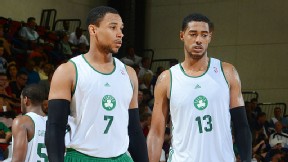 Garrett W. Ellwood/NBAE/Getty Images
Boston's two first-round picks, Jared Sullinger and Fab Melo, during summer league.Celtics rookie Jared Sullinger (back spasms) did not participate in the team's morning shootaround, according to a team spokesman. His absence leaves him doubtful for Friday's visit from the Orlando Magic.
Sullinger left Wednesday's game against the Sacramento Kings after just four minutes when the spasms left him unable to stay on the floor. Brandon Bass would be the most likely candidate to rejoin the starting lineup in Sullinger's absence.
Concerns about Sullinger's back forced him to slide to Boston with the No. 21 pick in last year's draft. Celtics coach Doc Rivers downplayed his concern about Sullinger's back on Thursday.
"No, I'm not that concerned," said Rivers. "Could he miss games? Like I said [Wednesday], here and there he may. But it's not anything career-threatening or anything like that."
The Celtics are expected to activate their other rookie first-round pick, Fab Melo, to add an available body. With two open roster spots and Rajon Rondo lost for the season with an ACL tear, there's an open active spot for Melo to occupy, even as he recovers from a quadriceps injury that led to his recall from the D-League earlier this week.
Melo remains behind veterans Chris Wilcox and Jason Collins on the frontcourt depth chart.