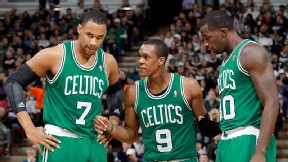 Rocky Widner/Getty Images
Two of these players were lost for the season (left). One of these players knows he's got to step up in their absence (right).BOSTON -- With Celtics rookie forward Jared Sullinger set to miss the remainder of the 2012-2013 season after undergoing back surgery on Friday, a greater emphasis will be put on forward Brandon Bass' role.
"As far as me playing and me getting more minutes, I don't want that to be based on nobody going down," Bass said before Friday's game against the Orlando Magic. "So it's a sad thing that Jared's going out and that he had to have back surgery. I don't even know what that's like. So I just wish him the best in that case. And me, personally, I just feel like I've just got to continue to get better and just be more consistent. For me, that's just me, and I feel like that will help the team."
Bass was one of Boston's most consistent big men last season, but an increase in reliable frontcourt players this season -- including Sullinger and Jeff Green -- has limited Bass' minutes and he's seen his role fluctuate between that of a starter and a reserve player. While Bass recently pointed to fewer minutes as a reason for his inconsistent play, he took greater responsibility for his efforts on Friday.
"My role has been my role. It's just that I wasn't playing well," Bass said. "When you're not playing well, you go to the next option. It's business, man. So, I just have to play better."
Bass said he's had discussions with head coach Doc Rivers about what his role with the team is.
"We have (conversations), but they don't even matter, though, because when you're performing -- you have to perform," Bass said. "If you're performance slacks up then everything else slacks up. So, you've just got to be on top of your game every night."
Bass highlighted scoring and rebounding as two areas he wants to see improvement in.
"I just think that me rebounding better and making shots will take care of everything for me, personally," Bass said. "It doesn't have anything to do with anybody else."
Asked if he's ready to take on a role similar to the one he held last season as the Celtics' primary option at power forward, Bass said: "The work is put in, it just has to happen."