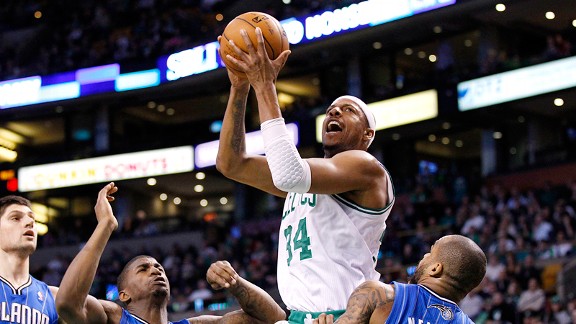 David Butler II/USA TODAY Sports
Celtics captain Paul Pierce at work against the Orlando Magic.BOSTON -- Rapid reaction after the Boston Celtics defeated the Orlando Magic 97-84 on Friday night at TD Garden:


THE NITTY GRITTY
Paul Pierce flirted with a triple-double (14 points, 11 rebounds, 7 assists), while Kevin Garnett added 14 points and 10 rebounds), but it was a bench effort that featured Jeff Green (team-high 17 points, plus-20 in plus/minus), Jason Terry (12 points, plus-23) and Leandro Barbosa (12 points, plus-21) that helped the Celtics race away in the second half. The Celtics limited Orlando to 37.6 percent shooting (35-of-93 overall). The Magic were paced by 15 points from J.J. Redick, while Nikola Vucevic (14 points, 14 rebounds) and Andrew Nicholson (14 points, 10 rebounds) added double-doubles for Orlando. Old friend E'Twaun Moore finished with 14 points on 6-of-14 shooting over 24:21 in his first game back in Boston.
TURNING POINT
In a one-possession game with five minutes to play in the third quarter, the Celtics closed out the frame on a 15-5 burst to carry a 13-point lead into the final frame. Boston soon pushed its lead as high as 23 with 7:39 remaining. Over that span, the Celtics outscored the Magic 29-12 with Barbosa and Green chipping in eight points apiece (Green and Terry were plus-20 during the stretch). Boston was 13-of-19 shooting (68.4 percent) during the run, while the Magic were 5-of-21 (23.8 percent).
A FAB DEBUT
Celtics rookie center Fab Melo made his NBA debut with the Celtics up 92-77 with 2:38 to play. On his first trip down the floor, Melo barely missed chasing down an offensive rebound, then got beat for a bunny by Kyle O'Quinn. Fans might not have gotten to see Gino dance on the JumboTron, but they got Fab instead.
WHAT IT MEANS
Boston (23-23) has now won three in a row to move back to .500. While the Magic offered little resistance, it's still a quality win for Boston after Jared Sullinger underwent season-ending back surgery on Friday afternoon. The Celtics again got varied contributions, with multiple players picking up the slack for injured Rondo and Sullinger. The Celtics wrap up a four-game homestand by hosting the Los Angeles Clippers on Sunday afternoon.