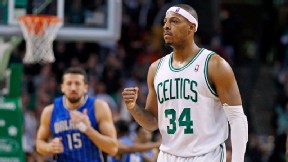 David Butler II/USA TODAY Sports
Paul Pierce pumps his fist against the Orlando Magic.BOSTON -- Paul Pierce was one of the first Celtics to claim that no one player could replace Rajon Rondo in the wake of his season-ending ACL injury. And while Pierce is correct in his assessment, if there's one player on the roster capable of giving a complete-game effort similar to what Rondo displayed with considerable frequency, it's the captain.
After coming through with a triple-double in Sunday's win over the Miami Heat (and a double-double in Wednesday's victory over the Kings), Pierce flirted with another triple-double in a 97-84 win over the Orlando Magic on Friday, finishing with 14 points (on 5-of-10 shooting) and team-highs with 11 rebounds and seven assists.
You've heard Pierce say it before, and he echoed it again after Friday's win: He gives the game -- and his team -- whatever it needs. Whereas scoring always took precedent early in Pierce's career, with more talent around him these days, he has more freedom to focus his talents on other facets of the game, like making up for the recent losses of Rondo and Jared Sullinger.
"I'm just trying to play to my abilities," Pierce said. "I'm capable of doing a little bit of everything, just trying to give the game what it needs. So regardless of if it's playing Rondo's role or Sully's role as a rebounder, I'm going to try to fill the needs of what this ballclub needs."
Though Pierce had been focusing more on rebounding even before news hit the team Friday that Sullinger would miss the rest of the season after undergoing back surgery, Pierce seemed to have an even more determined mindset on the glass in the wake of the team losing one of its top rebounders. Pierce hauled in eight rebounds in the first half on Friday, good for nearly a third of the team's total at the break.
"Well my responsibilities go up in other departments now," Pierce said. "Not so much in scoring, but, hey, maybe some nights it will be. But in other departments when you lose one of the best rebounding guards, one of the best rebounding guys off the bench. I just try to put an extra effort and fill in in that department."
It's almost necessary for Pierce to come through with a better effort on the boards. With Sullinger out, the rest of the C's will have to rebound collectively, and Pierce has the ability to spearhead that charge.
"Well, [Pierce is] our rebounder. He's one of them," head coach Doc Rivers said. "He has to be. I mean, he literally has to be a rebounder for us, and Brandon [Bass] had seven. Those were huge for us as well. It's by committee. I thought we did a great job tonight when they had an inside position, one of our guards just tipping the ball out of their hands and we were getting the ball on the ground. I mean, that's how we have to do it every night."
But when the Magic started digging into Boston's 11-point halftime lead early in the third quarter, Pierce showed his versatility, reverting more to scoring mode and preventing Orlando from getting closer than three points.
Pierce helped keep the Magic at arm's length in the third quarter. And after several other Celtics contributed to get Boston's lead back to double figures, Pierce scored the team's last four points of the frame over the final 42 seconds as Boston carried a 72-59 lead into the final frame.
Pierce didn't have to play a single minute of the fourth quarter as the Celtics' supporting cast put the Magic down for good.
"You know Paul's going to be a future Hall of Famer. He's one of the best to do it," Courtney Lee said. "He was a ball mover today and then he was able to score when we needed him to score, especially when they cut the lead. So his all-around game is definitely showing now."