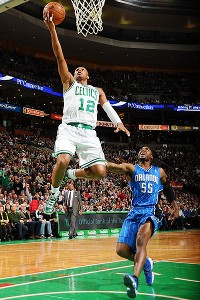 Brian Babineau/NBAE/Getty
Leandro Barbosa drives to the rim for a layup vs. the Magic.Two weeks ago, Celtics guard Leandro Barbosa was fiercely denying rumors that he had made several trade demands to president of basketball operations Danny Ainge because of his very limited role in Boston's guard-heavy rotation.
Oh, how quickly things can change in the NBA.
Boston found out Rajon Rondo tore his right ACL on Sunday, and, just like that, Barbosa is back in the mix, now serving as a mainstay of the Celtics' second unit. It's not an ideal scenario, and Barbosa would likely echo what Brandon Bass said Friday about losing rookie Jared Sullinger for the rest of the season after he underwent back surgery: More minutes due to a fallen teammate shouldn't exactly be celebrated.
But the sentiment can only last for so long. Barbosa was seeking this opportunity and, now that he has it, it's time to perform. The former Sixth Man of the Year and lightning-quick scorer hasn't dragged his feet so far. Fresh off a nine-point outing against the Heat last Sunday and a seven-point, two-assist performance against the Kings on Wednesday, Barbosa delivered his fourth double-digit scoring game of the season Friday night, putting up 12 points on 6-of-11 shooting to go along with four assists and two rebounds over 27 minutes in Boston's 97-84 victory over the Orlando Magic.
Aside from their considerable speed and quickness, there aren't many parallels between Barbosa and Rondo. He's certainly not a replacement for Boston's All-Star floor general, and, whereas Rondo exhibits a firm control over the Celtics' offense, Barbosa is embracing a see-what-happens approach when Boston has the ball. He's been paired frequently with Jason Terry in the backcourt, and with neither of them serving as a true point guard, they simply must figure out the best way to get the ball in the basket -- something head coach Doc Rivers stressed to them Friday night.
"We kind of let them play," Rivers said of Barbosa and Terry together. "I called the one timeout and they kept asking, 'What are we running?' I said, 'I have no idea. Just go out and space the floor and play. And play through it.' And I think Jason loves to play that way; I think LB clearly likes to play that way, and they just read each other extremely well. We try to keep them on the floor at the same time."
Barbosa is arguably at his best out in transition, when a combination of his dazzling speed and open floor space often translates to easy baskets. The Celtics are looking to exploit Barbosa's transition game as much as possible, as it allows for quality looks near the rim and gives Boston a chance to reset its defense.
Consider the end of the first quarter on Friday, when Jeff Green grabbed a rebound and zipped the ball ahead to a streaking Barbosa, who put in an easy layup. The ball touched the floor once on a single Barbosa dribble and the play lasted a grand total of four seconds. Plays like those make everything easier on the Celtics.
"I've always said this is an opportunity league and players that get opportunities step up and show what they are capable of doing," Ainge said prior to Friday's win. "Sometimes [underutilized players] are drowned out by other players and the lack of opportunity. It's a chance for us to see what they are made of."
A statement like that, while not necessarily directed right at him, has to ring true for Barbosa, who, two weeks ago, couldn't have seen this opportunity on the horizon, but will now seek to do everything he can with it.