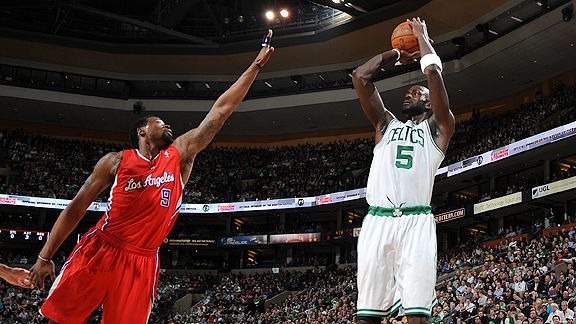 Brian Babineau/NBAE/Getty Images
Boston's Kevin Garnett shoots over Los Angeles Clippers' DeAndre Jordan.The Boston Celtics (23-23, 16-9 home) host the Los Angeles Clippers (34-14, 14-9 away) on Sunday afternoon at TD Garden (1 p.m., CSN). Here's what to watch for:


* RATHER POINT-LESS: The Rajon Rondo-Chris Paul showdowns rarely disappoint, but for the second straight year, we won't get to see it in Boston. Last year's lockout-condensed schedule robbed Boston of getting a look at the Clippers. This time around, both Rondo and Paul are out with knee injuries. Rondo was diagnosed with a torn ACL last Sunday, while Paul will miss his seventh straight game due to a bruised right kneecap. We'll have to settle for Avery Bradley vs. Eric Bledsoe.
* SYNERGY SNAPSHOT: The Clippers rank sixth in the NBA averaging 0.954 points per play, according to Synergy Sports data. That said, two of their top three most-utilized offensive players are dinged up in Paul and Jamal Crawford. That puts additional pressure on Blake Griffin, who has averaged 0.994 points per play (ranking in the 81st percentile among all players). Defensively, the Clippers quietly rank fifth overall allowing a mere 0.892 points per play. The Clippers are rather average (17th overall) against spot-up shooting, but are best at defending pick-and-roll ball-handlers and limit the damage in the post. Griffin and DeAndre Jordan do an excellent job protecting the basket.
* A TRUE TEST FOR BOSTON: While this little three-game, Rondo-less winning streak started with a gritty double-overtime win over the Miami Heat, Boston's last two wins have been against two of the worst defensive teams in the league (Orlando, Sacramento). Sunday's visit from the Clippers should offer a better gauge of where the Celtics are as a team without Rondo and Jared Sullinger. Can Boston's defense continue its lockdown play against a top-caliber opponent? Can Boston still put up points against a top-tier defense? We'll know more about these Celtics after Sunday's game, even with the Clippers dealing with their own injury woes.