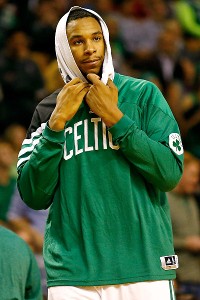 Jared Wickerham/Getty Images
A couple of Celtics visited Jared Sullinger during Saturday's offday.BOSTON -- Jeff Green and Courtney Lee visited teammate Jared Sullinger at the hospital during Saturday's offday and reported he's in good spirits after undergoing season-ending back surgery on Friday.
"He was in a positive mood," Lee said. "After surgery you're going to be sore and drugged up on the medicine, but he was happy to see the people that I went with. I'm sure he was happy to see Jeff also. I talked to him a little bit. He was able to get up and walk around a little bit, because that's something he's going to have to do to keep the blood flowing and whatnot.
"They said he'll be out for like six weeks, as far as not being able to do anything, and then after that he'll be able to move around do little stuff, as far as with weights and whatnot. But he's in good spirits."
Celtics coach Doc Rivers said Sullinger was released from the hospital on Saturday evening. He's kept in touch with his rookie via text and suggested he's doing well.
Jeff Green confirmed that after his visit. "He's in good spirits. He's doing well. I mean, it's just a patient waiting game now until he's better."
Lee said Sullinger didn't seem discouraged at the abrupt end to his rookie season and said the two focused on a brighter future.
"We just talked about him moving forward and how he was able to get this done at 20 when he's young," Lee said. "His body's going to recover and heal faster than if he was 28 or 30. So we were just trying to address all the positives out of the situation."