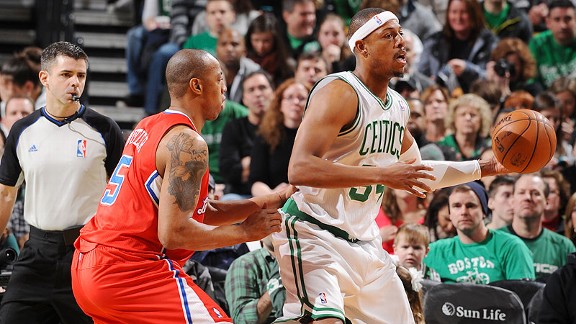 Andrew D. Bernstein/NBAE/Getty Images
Celtics captain Paul Pierce works against the Clippers' Caron Butler.BOSTON -- Rapid reaction after the Boston Celtics defeated the Los Angeles Clippers 106-104 on Sunday afternoon at TD Garden:


THE NITTY GRITTY
Paul Pierce scored a team-high 22 points to go along with five rebounds and four assists, but it was Boston's bench that came up big again as Jeff Green (14 points), Leandro Barbosa (14) and Jason Terry (13) were a combined 14-of-23 shooting (60.9 percent) to spark the Celtics. Eric Bledsoe, starting in place of the injured Chris Paul, scored a game-high 23 points on 9-of-15 shooting to pace the Clippers. Blake Griffin added a double-double (20 points, 11 rebounds), while Jamal Crawford scored 20 points off the bench (the majority of which fueled L.A.'s feverish fourth-quarter rally).
TURNING POINT
The teams combined for 25-of-42 shooting (59.5 percent) in a rare high-scoring first quarter, and Boston led 33-30. But over the final 13 minutes of the first half Boston took control. The Clippers were 4-of-19 shooting (21.2 percent) for a mere 10 points in that span, turning the ball over 10 times for 12 points. Boston cooled as well, but that sort of defense allowed the C's to stretch their lead to 59-40 at halftime. Ten Celtics players scored at least three points apiece in the first half with the reserves chipping in 32 points on 10-of-15 shooting (66.7 percent).
CLIPPERS MAKE A CHARGE
The Celtics were up 15 with 9:48 to go, but the Clippers scored the game's next seven points and utilized a 15-3 run to get their deficit as low as three with less than three minutes to play. The Rajon Rondo-less Celtics looked uneasy as things got tight and endured an ugly stretch in which they turned the ball over seven times and went 6½ minutes without a field goal before Terry's late-clock pull-up jumper put Boston on top 103-98 with 69 seconds to play. A Bledsoe 3-pointer made it a two-point game, but Avery Bradley absorbed a Crawford charge with 26.6 seconds to play for a huge defensive stop. The Clippers played for a stop and Pierce made a step-back 3-pointer with 2.5 seconds to go to seal the game.
NO-PASS BASS? HARDLY
Celtics forward Brandon Bass tied a career high with four assists. Bass previously had only two other career games with four assists (one of which came during last season's playoffs against Philadelphia). Heck, he had registered only three or more assists 19 times in an eight-year NBA career.
KG GETS A TECH
Kevin Garnett picked up his team-leading sixth technical foul of the season for an elbow to the chest of Griffin as the two battled for position on the blocks early in the fourth quarter. The two had been jousting much of the game.
WHAT IT MEANS
The Celtics (24-23) swept all four games of this brief homestand, shuffling back above .500, and now get a couple of days off before a visit to Toronto on Wednesday night. Boston is right back at TD Garden to host Los Angeles' other hoops squad -- the rival Lakers -- on Thursday evening in a national TV battle, then welcome Denver on Sunday night.