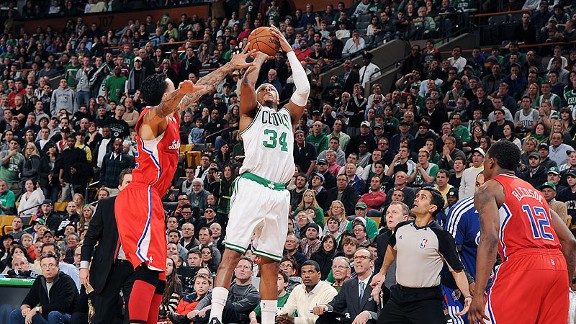 Andrew D. Bernstein/NBAE/Getty Images
Paul Pierce puts up the game-clinching 3-pointer in the final seconds.BOSTON -- Boston Celtics coach Doc Rivers admitted he wasn't thrilled with how his team let up in the fourth quarter, allowing the visiting Los Angeles Clippers to pare a 19-point lead down to a single bucket late in the game. But Rivers certainly liked how his players stepped up in crunch-time situations, helping Boston escape with a gritty win -- its fourth straight -- against a top Western Conference opponent.
Clinging to a two-point cushion in the final minute, Avery Bradley found himself isolated on Jamal Crawford at the top of the 3-point arc. Crawford, who scored 12 of his team's 27 fourth-quarter points to spark the rally, tried to drive on Bradley, who stuck with him and forced Crawford to pick up his dribble. While looking to pass, Bradley ate an elbow and drew a pivotal offensive foul with 26.6 seconds to play. (It was even bigger considering Crawford made the little leaner he attempted at the whistle.)
The Clippers then made a curious decision to play for a stop -- this despite the fact that, by allowing Boston to take down the shot clock, Los Angeles would have been left with little more than 2 seconds for a final-shot opportunity (what's more, Boston had a foul to give).
Courtney Lee took the inbounds in the backcourt and got the ball to Paul Pierce. Boston spread the floor, leaving Pierce alone on Matt Barnes. He took the shot clock all the way down before making a step-back 3-pointer from the left wing for a 106-101 lead with 2.5 seconds to go that essentially sealed the win.
"I just wanted to hold it until the last possible second," Pierce said. "It was only like a 2- or 3-second differential in the shot clock and the game clock. I figure let it wind all the way down, we get a shot off -- worst comes to worst, a long rebound. By the time they get the rebound, it'll probably be like 1 or 2 seconds left, and at that point, we felt like it would be difficult for them to get a shot off."
Clippers coach Vinny Del Negro admitted his staff wrestled with the decision.
"It was right on the number; we've done it both ways," Del Negro said. "If we can get a stop there -- 3 or 4 seconds to go, we've got plenty of time [in a] 2-point game. We could have fouled, but if I was going to do it, I would have fouled Courtney Lee early, right when he got the ball. But you play the percentages. We went back and forth with it."
Even Rivers admitted he was unsure how the Clippers would attack the situation.
"It was a tough one. Honestly, we debated it," said Rivers, noting his own staff was split. "I said I'm trapping, probably, and going for it [then] fouling, but it's a hard one. That 2½ -- that's a tough one. Our number is 3 [seconds], where we won't foul, but we've never had 2½."
Without point guard Rajon Rondo to settle the team, Rivers was asked if he liked how his team stepped up in a crucial spot, despite enduring a 6½-minute stretch without a field goal (and a rash of turnovers) that allowed the Clippers to make it a game again.
"I really don't know the answer to that -- if you want to say, 'Yes,' I'm all for it. I'll take that as an answer," Rivers said. "It's tough because I was so upset that we allowed [the comeback], but then we did gather ourselves. I'll probably have a better feel about it after I watch the game again."
* TAKING CHARGE: Bradley's heart probably skipped a beat when he heard the referee's whistle as he tried to draw the foul on Crawford in the final minute. But his gritty defensive effort was rewarded on a night where he was a mere 2-of-8 shooting for four points and minus-11 in plus/minus. "That's my role on this team. I have to go out there and play hard on the defensive end," Bradley said. "I just tried to make it as hard as possible on that last play, and thank God the ref called it."
* CELTICS HOT BEYOND THE ARC: The Celtics typically shun the 3-pointer, favoring the mid-range game to spearhead their offensive attack. But in this Rondo-less offense, quick shots with open looks are a premium and Boston connected on a season-high 11 triples (on 18 attempts) in Sunday's win. Pierce was 4 of 6 beyond the arc, while Jeff Green made all three he put up. "It's important for us now," Rivers said. "If you're going to play small ball, you either have to get layups or threes." Given the Celtics' lack of post-up options, they will lean heavier on the 3-ball; they made the most of them on Sunday.
* KG NOT WATCHING THE STANDINGS: Celtics center Kevin Garnett suggested he's oblivious to Boston's four-game winning streak while playing without Rondo and Jared Sullinger. "To tell you the truth, I didn't even know what we won in a row," Garnett said. "I just know that we've been moving the basketball, playing hard, scrapping and playing together since we lost two big guys. So thank you for the information." One thing Garnett was conscious of is the Super Bowl and threw his support to the 49ers, announcing as he left the locker room, "Come on [Randy] Moss, let's get a ring today."
* MEET 'INSTANT BUCKETS' BARBOSA: Reserve guard Leandro Barbosa continues to shine in elevated minutes. Barbosa scored 14 points on 5-of-10 shooting over 20:36 on Sunday. His day was highlighted by his exploits at the end of the third quarter. After getting a crazy shooter's bounce on a 3-pointer, Barbosa willed a double-clutch circus floater to fall at the buzzer, helping Boston carry a 15-point cushion (one it needed every point of) into the final frame. That immediate offense had Bradley raving about Barbosa. "His nickname is 'Instant Buckets.' That's what I call him," Bradley said. "He comes in and he just makes the right plays. It shows that he's been playing in the league for a while because it doesn't matter if he plays 1 minute, 2 minutes. He comes in and plays as hard as he can and having a team like that is just great. I respect him so much."