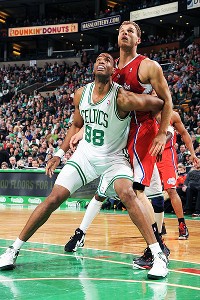 Andrew D. Bernstein/NBAE/Getty
Jason Collins at work versus the Clippers on Sunday.It takes a coach's eye to truly appreciate what Jason Collins brings to the court. But, heck, even a coach's son can appreciate the little things Collins is doing to help the Boston Celtics right now.
"You know, I don't care about the statistical part of it, he's just been doing [good things] all year," said coach Doc Rivers. "It's funny, my oldest son was at [Friday's] game [versus Orlando] and he said, 'Golly, every time Jason Collins comes in something good happens.' And I said, 'Yeah, Jeremiah, it's really a wise statement.' He's right. [Collins] doesn't do bad things; he just does a lot of good things."
It's rarely pretty, but Collins has established himself as a serviceable 7-footer who sets hard screens, gives hard fouls, and plays hard defense. While the Celtics have waited patiently to add extra big-man help to a depleted front line, Collins has quietly provided quality minutes in small doses.
Over the last four games since Rajon Rondo was lost for the season, Collins has aided the uptick in production from Boston's bench. He's plus-26 overall in plus/minus during that four-game stretch and, even though he's only taken two shots, he's logged 45 solid minutes in which he's given 12 fouls (and drawn nine from opponents).
Collins' efforts were spotlighted briefly Sunday when he set a hard screen on Eric Bledsoe as Paul Pierce hit a 3-pointer from the right wing midway through the third quarter. Bledsoe got whistled for a foul trying to plow through the screen to contest Pierce's shot and Collins made the free throw to cap a rare four-point play.
"That's my role on the team: Just try to free up the shooters," explained Collins. "With the Clippers, it's a little bit easier to set flare screens, because they do a great job of packing in the paint, and loading to the ball. They really set themselves up to flare screens, and I was just trying to get my shooters open."
Collins is the first to admit he's offensively limited -- even after he tossed in a season-high seven points over 12 minutes against the Clippers -- but he frees up others with his screens and, on the defensive end, he's quietly been super effective.
According to individual defensive stats logged by Synergy Sports, Collins is allowing a mere 0.657 points per play, which ranks in the 97th percentile among all NBA players. Opponents are shooting just 32.9 percent (26 of 79 overall) in plays that finish against him.
Collins has played well enough to stay in front of Chris Wilcox in Boston's current big-man rotation. In fact, his play has allowed the Celtics to take their time adding depth up front, even after the loss of Jared Sullinger last week.
Yes, it's not the flashiest play, but the 34-year-old veteran's efforts are not going unnoticed. Particularly by his coach -- and even the coach's son.