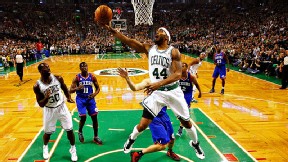 Jared Wickerham/Getty Images
Celtics center/forward Chris Wilcox looks to finish at the rim earlier this season.Chris Wilcox is making the most of limited minutes, but Celtics coach Doc Rivers suggested the veteran forward/center needs to find more consistency on the defensive end to ramp up his playing time.
Wilcox logged a mere 3 minutes, 40 seconds of action in Sunday's win over the Clippers -- the team that drafted him with the eighth overall pick in the 2002 draft. He made the only two shots he took -- finishing an alley-oop lob from Jason Terry, then working a little pick-and-roll with Avery Bradley for a left-handed layup -- while adding a rebound and a steal in a brief, but solid first-half stint.
Wilcox is now shooting 72.9 percent (51 of 70 overall) in limited action and has been one of the league's most efficient offensive players (1.26 points per play, 99th percentile, according to Synergy Sports data) with his penchant for running the floor and finishing around the rim. Defensively, his individual stats have been decent, but Rivers noted Sunday that he wants to see more.
"He's spotty. We want him to be more consistent," said Rivers. "We talk about guys doing their job. He has really one great job he has to do: he has to be our defensive energy guy, and then on offense he has to run the floor. He has to do that consistently and I don't think he does that yet, but I think he's gotten better in practices each time and definitely in the games."
Wilcox missed 19 games with a thumb injury before returning last month. Three of his first four appearances since rejoining the rotation have been for five minutes or less. Boston's desire to play small-ball (especially since Jared Sullinger was lost for the season) has bitten into Wilcox's opportunities, as has the serviceable play of veteran center Jason Collins.
Wilcox showed he can still be effective in larger chunks of minutes. Last week he logged 17 minutes against Sacramento and registered six points and five rebounds (on the flip side, he was minus-3 overall in plus/minus). The Celtics would like to see Wilcox's rebound rate return to familiar levels (his 11.1 total rebound percentage is a career low at the moment) and greater consistency on the defensive end will help drive his floor time back up.