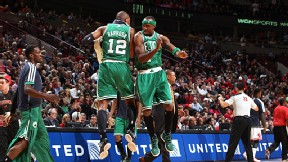 Gary Dineen/NBAE/Getty Images
Jason Terry and Leandro Barbosa have proven to be a solid backcourt pairing.Care to take a stab at Boston's best five-man lineup during its current four-game winning streak?
Go ahead, we'll wait. Nope. Not even close. Keep guessing.
Boston's most successful five-man unit during this four-game stretch has been Leandro Barbosa, Jason Terry, Paul Pierce, Jeff Green, and Jason Collins.
According to lineup data logged by NBA.com, that unit has the best overall plus/minus of any Boston unit over the last four games checking in at plus-16 in 12 minutes of floor time (which doesn't sound like a lot, but that's the fourth most used lineup in that span).
Sure, plus/minus isn't the only barometer for quality play, but it's hard to argue with the bottom line. That five-man unit shot 80 percent both overall (16 of 20) and beyond the 3-point arc (4 of 5) and generated 45 points in those 12 minutes. That output is crazy enough on its own, but even more so when you consider that unit turned the ball over eight times as well. The five-man unit owned a ridiculous 148.6 offensive rating during its floor time (only somewhat diminished by a 103.3 defensive rating, even as opponents shot a mere 37 percent).
That unit's success is not as much of a surprise when you consider it features three of the players that have really stepped up for Boston since Rajon Rondo was lost for the season with an ACL injury. Not only have Barbosa, Terry, and Green been spectacular, but you can make the case that Collins has also contributed some solid minutes in short bursts.
A Barbosa, Terry, Green, Pierce, and Kevin Garnett unit is actually the second most used lineup combo beyond the starting lineup, logging 18 minutes together and also boasting solid numbers.
Not surprisingly, if you zoom in on the four-man lineup combo of Barbosa, Terry, Green and Pierce, that unit is a team-best plus-22 in 30 minutes together, shooting 58.7 percent and outscoring opponents 77-55 during that span. If that unit tightened up its defense a bit -- the natural concern with the Barbosa-Terry pairing on the perimeter -- it has the chance to really be productive and allows the starting backcourt of Avery Bradley and Courtney Lee to rest together after setting the tone at the start of each half.