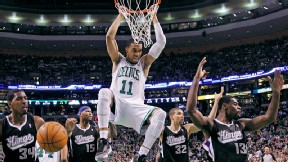 AP Photo/Elise Amendola
Turnovers have allowed Boston to generate easy buckets over the last four games.When Rajon Rondo and Jared Sullinger were lost for the remainder of the season, Celtics president of basketball operations Danny Ainge and coach Doc Rivers stressed it was an opportunity for others to step up. Well, the Celtics have certainly been an opportunistic bunch since losing their All-Star point guard, particularly with opponent's turnovers.
Not only has Boston ratcheted up its defensive intensity causing more turnovers, but it's parlayed those opponent giveaways into easy points that have helped spark this four-game winning streak.
The Celtics are averaging 2½ more turnovers and six additional points off those giveaways per 48 minutes over the last four games. Maybe the most staggering number is that a whopping 22.9 percent of Boston's total points have come off turnovers in recent games as opposed to 17.1 percent over the first 43 games of the season. Let's take a closer look at the numbers:
OPPORTUNITY KNOCKS
A look at how the Celtics have taken advantage of turnovers the last four games compared to the first 43 games of the season. Numbers are per 48 minutes with league rank in parentheses (via NBA.com Stats Cube):
Boston is cashing in giveaways at a staggering rate at the moment and that was highlighted in Sunday's win over the Clippers when it turned 21 Los Angeles turnovers into a whopping 33 points (1.57 points per turnover). By contrast, during an overtime loss to the Bulls last month, Boston parlayed 21 turnovers into a mere seven points (0.33 points per turnover).
"That's a rarity," Rivers said after that game. "You should at least score one point per turnover, and, on a good night, it would be nice to have more."
Over the last four games, Boston has turned 75 opponent turnovers into 92 points (1.23 points per turnover). When you don't have an All-Star point guard to spearhead your offense, you have to take advantage of opportunities and the Celtics have pounced on giveaways.