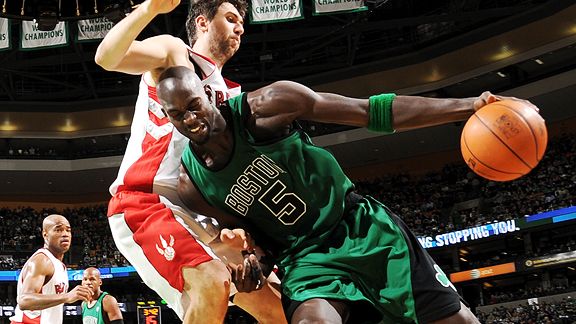 Steve Babineau/NBAE/Getty Images
Kevin Garnett and the Celtics invade Toronto on Wednesday to visit the Raptors.The Boston Celtics (24-23) take their four-game winning streak north of the border when they visit the Toronto Raptors (17-31, 12-12 home) on Wednesday night at the Air Canada Centre (7 p.m., CSN). Here's what to watch for:


* NEW-LOOK RAPTORS CATCH C'S EYE: The Celtics certainly took notice of the Raptors adding Rudy Gay to their roster and gushed about Toronto's new-look potential. "Well they're better. They've added a great scorer to a team that could already score," said Celtics coach Doc Rivers. Added Paul Pierce: "When you add a talent like Rudy Gay to go along with [DeMar] DeRozan and a healthy Kyle Lowry, and they have some very good young prospects, they could be dangerous." Kevin Garnett offered his own scouting report: "They're faster, they seem to be a lot more confident. All of the games I've seen have been at home. I've seen them get the ball up and down the floor with their unbelievable pace and [Gay is] bringing a spark to the city. That's the first thing that stands out about when I watch them."
* SYNERGY SNAPSHOT: The Raptors rank ninth in the league averaging 0.934 points per play (and jump up to seventh in halfcourt sets). Even before Gay arrived, Toronto was a top-five isolation team and is essentially average or better in all of their play types except transition (20th). The Raptors lost two steady offensive players in Jose Calderon and Ed Davis, but Gay is averaging a whopping 1.043 points per play (49 points in 47 finished possessions) in his first two games with the team. Defense is where Toronto continues to lag, allowing a whopping 0.948 points per play and ranking 26th overall. The Raptors upgraded an already potent offense, but the question is whether they can play enough defense to not have to win a shootout every night.
* VALUE THE BALL: The Celtics have feasted on opponent turnovers as part of their recent winning streak, but the Raptors are actually one of the best teams in the league at limiting giveaways (second in turnover percentage; first in assist-to-turnover ratio). Can they maintain that without Calderon? Boston needs to cash in on whatever turnovers they generate.
* GET TO THE STRIPE: The Raptors rank dead last in the NBA in opponent free throw rate (number of free throws attempted relative to field goal attempts). When Boston falls in love with its jump shot, it does a terrible job of getting to the line and the Celtics absolutely have to be aggressive going at the basket on Wednesday in order to generate easy points at the stripe (particularly if Toronto tries to turn this into a shootout by lighting up the scoreboard).