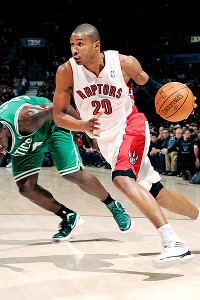 Ron Turenne/NBAE/Getty Images
Leandro Barbosa at work for Toronto last season against the Celtics.Having taken on an increased role in the absence of Rajon Rondo, Celtics guard Leandro Barbosa ought to have a little extra motivation when Boston visits the Toronto Raptors on Wednesday night at the Air Canada Centre.
The Raptors traded Barbosa to the Indiana Pacers last March for cash and a second-round draft pick (Tomislav Zubcic). Despite putting up solid numbers in Toronto (12.2 points over 22.5 minutes per game in 42 appearances), he never quite settled in with Indiana. Barbosa's regular-season numbers dipped with the Pacers (8.9 points over 19.8 minutes per game) and he struggled through the postseason (5.7 points over 20.3 minutes; shot only 37 percent overall and 15 percent beyond the 3-point stripe). That might have contributed to Barbosa, who made $7.6 million last season, languishing through the summer without a team until the Celtics signed him to a veteran-minimum deal just days before the start of the 2012-13 campaign.
Barbosa, who endured some lulls in playing time in Boston's deep backcourt earlier this season, has emerged as a key contributor since Rondo was lost with an ACL injury. Over the last four games, Barbosa has averaged 10.5 points on 51.4 percent shooting over 23.3 minutes per game.
Teammate Avery Bradley calls him "Instant Buckets" and Barbosa's instant offense has been a boost for the Celtics -- even if coach Doc Rivers jokes he frightens him half the time with his breakneck pace and crazy-angled shots.
"[Barbosa has] been great and he's a guy that all year you said, 'Should you go with him? Should you not go with him?' and obviously we should have," said Rivers. "You can make that case, and especially with Rondo, that means another guard would have had to sit. That's where it was tough. But he's just playing so well.
"He's wild at times. I think he scares me and the opposing coach all at the same time. That's actually not bad to have."
Barbosa has posted double-digit scoring output in his last two games, scoring 26 points on 11-of-21 shooting during wins over the Clippers and Magic. Boston's offensive numbers are off the charts with Barbosa on the floor, particularly coupled with the recent emergence of Jason Terry as a reserve backcourt tandem.
Barbosa is averaging a robust 1 point per play over his last four games, according to Synergy Sports data. That's a solid number for a guard that doesn't live on 3-pointers. For the season, Barbosa is averaging 0.951 points per play, which ranks him in the 70th percentile among all players in the league.
The only negative is that Barbosa's individual defensive numbers over the last four games are an eyesore (he's allowing 0.947 points per play, well above his 0.829 points per play mark for the season). The Celtics like the offensive spark he's providing, but it would clearly be more effective if the opposing output was limited.
Barbosa scored eight points in less than 16 minutes of action during Boston's only other meeting with Toronto this season as the Celtics emerged with a 107-89 triumph at TD Garden in mid-November.