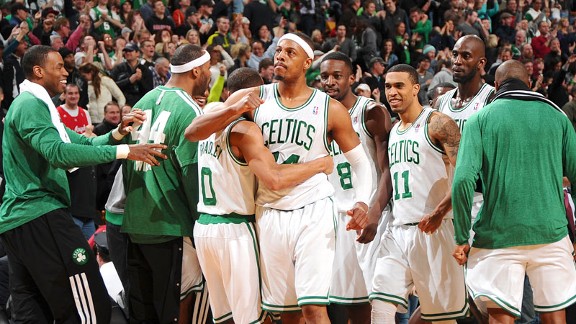 Brian Babineau/NBAE/Getty Images
The Celtics have won four in a row, but are they better?Grantland's Zach Lowe digs deep on the Celtics' four-game winning streak while trying to answer whether Boston is better without Rajon Rondo. Here's a sample:
It's no secret Boston's offense had grown very Rondo-dominant, especially this season. The Celtics are one of 15 teams that have invested in fancy data-tracking cameras from STATS LLC, and the information from those cameras, provided exclusively to Grantland, backs up that notion. Rondo has dribbled the ball about 486 times per tracked game this season, the fourth-highest figure in the league for players on those 15 camera teams, and about 90 more dribbles per game than he averaged last season, according to the data. A larger percentage of his touches — 41 percent this season, 35.5 percent last season — have involved at least six dribbles. This has naturally resulted in fewer touches, and shorter touches, for some of Boston's secondary ball-handlers. Terry dribbles the ball twice on average every time he gets it, down from a three-dribble average last season, and a much higher percentage of his touches have lasted between zero and two seconds in Boston, the data show. Pierce's stats have shifted in a similar way, and Terry is still on pace for a career-low usage rate — a measure of the percentage of Boston possessions that end with a Terry shot, drawn foul or turnover.
Hop HERE to read the full story on Grantland.