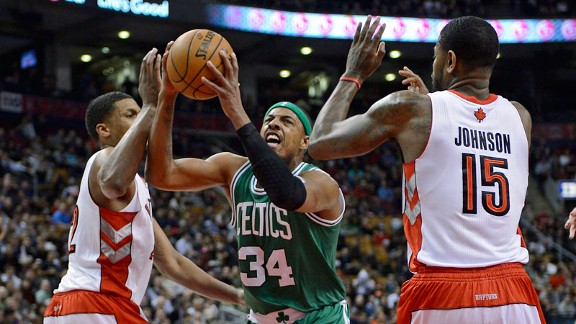 AP Photo/The Canadian Press/Frank Gunn
Celtics captain Paul Pierce goes up in traffic against the Raptors.Rapid reaction after the Boston Celtics defeated the Toronto Raptors 99-95 on Wednesday night at the Air Canada Centre:


THE NITTY GRITTY
Kevin Garnett scored a season-high 27 points on 11-of-18 shooting to go along with 10 rebounds as the Celtics rallied from a 10-point fourth-quarter deficit to win their fifth straight. All five Boston starters landed in double figures, including 15 points from an aggressive Courtney Lee on 6-of-11 shooting. Leandro Barbosa added 14 points and provided a key spark off the bench, while Paul Pierce labored with his shot (2-of-11), but finished with 12 points, a team-high 11 rebounds, and 6 assists over a team-high 37 minutes. Newly acquired Rudy Gay scored a team-high 25 points (on 8-of-24 shooting) to pace the Raptors, while Amir Johnson finished with 16 points and 12 rebounds.
TURNING POINT I: C'S UNRAVEL IN THIRD
The Celtics were up five coming out of halftime, but unraveled late in the third quarter and the Raptors opened a double-digit lead while scoring 34 points in the frame. Boston made it easy on Toronto, shooting a mere 35.3 percent in the frame (6-of-17 overall) and turning the ball over five times, leading to a whopping 13 points. No giveaway was more exasperating than when -- after Gay hit a 3-pointer -- no one stayed to receive the inbounds pass from Jason Terry, who threw the ball away, leading to a DeMar DeRozan layup and a 79-69 advantage for the Raptors.
TURNING POINT II: BOSTON PICKS ITSELF BACK UP IN FOURTH
Facing maybe its most adversity since Rajon Rondo was lost for the season -- down double digits on the road while falling apart at the seams -- Boston managed to regroup heading to the final frame. The Celtics opened the quarter on a 10-0 burst to erase their deficit, culminating with Garnett's magical no-look, over-the-head, and-one bucket that helped even the game at 79 with 8:43 to go.
TURNING POINT III: GAME OVER
Barbosa hit a number of big shots in a bit of a back-and-forth battle in the fourth frame, but it was Garnett who kept providing the key buckets to keep the Raptors at arm's length. A 12-foot fadeaway with 46 seconds to go in a one-possession game proved pivotal as Boston escaped with the win.
TECHNICAL DIFFICULTIES
Celtics coach Doc Rivers picked up a technical foul for barking at an official late in the first half. It was Rivers' third tech of the season (and first in nearly a month of play).
WHAT IT MEANS
The Celtics have won five straight, but this was the first on the road and the team showed a lot of resolve finding a way to rally out of the 10-point hole when the game certainly looked like it was getting away. Boston picked up its defense when it needed to, limiting Toronto to 16 points in the final frame. With the Lakers already in Boston and resting up for Thursday's national TV showdown, the Celtics netted a win to keep their momentum rolling into the rivalry game.