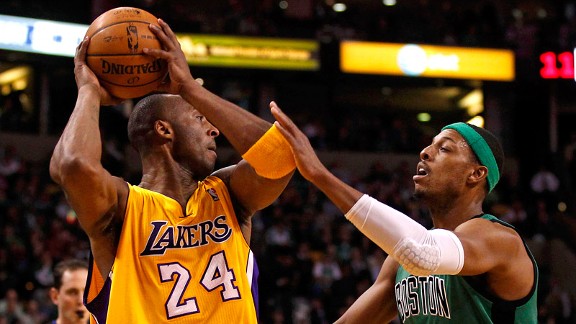 David Butler II/US Presswire
It's Kobe Bryant vs. Paul Pierce as Lakers and Celtics clash on Thursday night.The Boston Celtics (25-23, 17-9 home) host the Los Angeles Lakers (23-26, 8-16 away) on Thursday night at TD Garden (TNT, 8 p.m.) Here's what to watch for:

* LAID-UP LAKERS: Lakers forward Pau Gasol is out with a tear in the plantar fascia of his right foot, while Dwight Howard is battling a shoulder issue (this after the Lakers already lost back-up big man Jordan Hill to season-ending hip surgery). Los Angeles will get no sympathy from Boston after the Celtics lost Rajon Rondo (ACL) and Jared Sullinger (back) for the season. The Lakers will have Metta World Peace back after a one-game suspension.
* THRIVING DESPITE ADVERSITY: While both sides are dinged up, the Celtics and Lakers are actually playing some of their most inspired ball of the season at the moment. Boston has won five straight (all without Rondo) and is looking to match its season-high six-game winning streak on Thursday. The Lakers have won six of seven, including three in a row as part of this seven-game road trip. The downside for L.A.: It has moved a mere 1 game closer to the eighth and final playoff spot in the West during that span because the Rockets are 5-2 in that same span. Boston pulled even with Milwaukee for the seventh spot in the East with Wednesday's win in Toronto (coupled with the Bucks loss in Utah).
* SYNERGY SNAPSHOT: For all their woes, the Lakers have been a solid offensive team, ranking eighth overall at 0.94 points per play, according to Synergy Sports data. Los Angeles is a terrible transition team (26th), but thrives in the pick-and-roll in halfcourt sets. Kobe Bryant (0.994 ppp, 82nd percentile) and Steve Nash (1 ppp, 85th percentile) have put up solid numbers on that side of the ball. Defensively, Los Angeles is middle of the pack at 15th overall while allowing 0.925 points per play. Like the Celtics earlier in the year, dribble penetration has been a major issue for the Lakers, even when Howard has been healthy and able to defend from the back line.
* LAKERS SEEK FIFTH STRAIGHT AT GARDEN: According to our friends at ESPN Stats and Info, the Lakers have won a franchise-record four straight in Boston (three of those games decided by a point). Overall, Los Angeles has won three straight against the Celtics and a fourth would be their longest winning streak since 2003-05.
* MILESTONE EVENING: Two years ago it was Ray Allen breaking the NBA all-time 3-point record against the Lakers on a national broadcast. Tonight, Kevin Garnett should become only the 16th player in NBA history to reach 25,000 points.