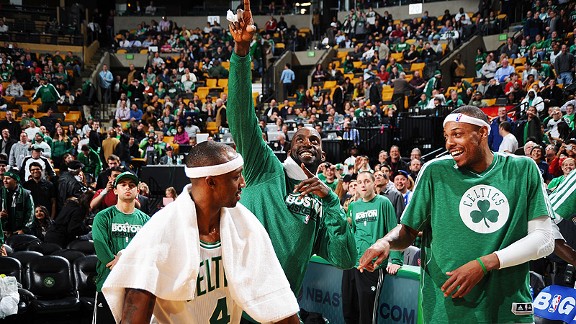 Brian Babineau/NBAE/Getty Images
The Celtics danced their way to their sixth straight victory Thursday against the Lakers.From last night's Daily Dime:
Reloading, not rebuilding, was the plan this summer once Ainge coaxed Garnett into pushing off retirement. By surrounding Garnett, Pierce and Rajon Rondo with a talented supporting cast signed to long-term deals, the hope was Boston could compete once again with the top contenders in the Eastern Conference.

Despite universal acclaim for Ainge's moves, the new-look Celtics failed to click for a variety of reasons over the first half of the season, stumbling to a 20-23 record. A host of uninspiring efforts led to Doc Rivers' threatening the possibility of "getting guys out of here" after a game against Detroit on Jan. 18. Days later, Rondo tore his ACL, seemingly putting the death knell in the Celtics' season. Whether the Celtics could even make the postseason became the more pressing question, as any dreams of Boston remaining a threat in the Eastern Conference vanished to most fans.

After the injury to Rondo, common wisdom also said Ainge should look to deal the aging Pierce and Garnett (if he signed off on a deal to a contender) to maximize their value and improve Boston's future outlook. Yet as the rumors continue to float around Garnett and Pierce, the Celtics are quietly playing their best basketball of the season with their undermanned roster.
Hop HERE to read the full Dime.