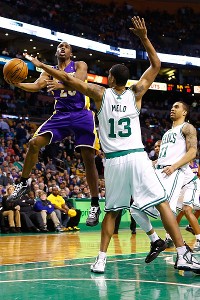 Jared Wickerham/Getty Images
Fab Melo plays some late-game defense against the Lakers.Kevin Garnett wasn't the only Celtic to come away from Thursday's 116-95 victory over the Los Angeles Lakers with a significant scoring milestone. While Garnett joined the 25,000-point club, rookie center Fab Melo came through at the opposite end of the spectrum, recording his first professional basket in Boston's blowout victory.
Much to the delight of the TD Garden faithful, Melo logged just under five minutes of fourth-quarter garbage time and, after missing on a wild hook shot minutes into his second career appearance, he came through with a reverse layup on the right side off of a feed from Avery Bradley.
"It felt good. It felt good to get the ball in," Melo said of his first career basket. "My teammates were trying to get me involved on the play, so it felt really good."
The Celtics have stressed patience with Melo's development ever since they selected him with the 22nd overall pick in last June's draft. He's spent most of the season playing with Boston's D-League affiliate, the Maine Red Claws, where he's enjoyed some considerable success, and admitted after Thursday's win that he was suffering from some big-league jitters when he checked into the game.
"It was [nerve wracking]," said Melo. "When I just got in there it was really fast. I got the ball, tried to shoot really fast, and KG told me just to slow down and play [my] game. And that's the thing I need to get the experience in and I'll be good."
Melo made his NBA debut in last Friday's win over the Orlando Magic and acknowledged that the speed of the game at the NBA level is the biggest difference from the D-League.
"That's the hardest thing. I just need to be more involved and get used to the speed of the game," Melo said. "Like we didn't have time to have practice because we've been playing a lot, so it's very hard to practice. And when we don't practice it's hard to just go to the game and just go in and do something fast.
"You just want to try to do good so bad and you can go too fast."
Melo might not ever reach the 25,000-point plateau, but, like Garnett, he's hoping he can eventually make his greatest impact on the defensive end. Though it's apparent his game is still very raw, his effort on defense on Thursday wasn't lacking. He was credited with a block on Jodie Meeks and he actually got his hand on a Robert Sacre dunk attempt, but the ball still found its way through the rim.
"Just try to be active and block shots," Melo said of what he aims to do on the defensive end. "I had a block today, but I put the ball in. But I just want to be involved on every play, try to change shots. That's the thing I have to do, and I see that I'm improving."