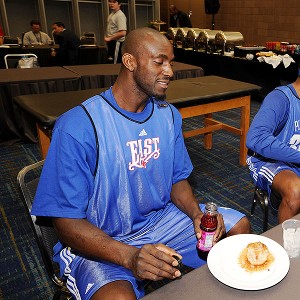 Andrew D. Bernstein/NBAE via Getty Images
Kevin Garnett will endure All-Star dining without Rajon Rondo this year.The Celtics miss Chef Rondo. But it's OK because they have too many cooks in the kitchen. Confused? Allow Kevin Garnett to explain why Boston's offense has thrived even without its All-Star point guard.
"Well, the only way I can really explain it is when you see that Rondo does so many different great things for this team and you kind of get lackadaisical, if you will. It's very similar to if you have someone cooking for you and you're expecting it every day. All of a sudden someone's not there for you to do that, and now it's up to you to feed yourself. Then all of a sudden you start making these gourmet dishes and have more people over to the house, more people eating. You never know you possessed that unless you lost that person who was cooking. So it's kind of like that, you know what I mean?"
Garnett is no stranger to a bizarre cooking analogy. Heck, it's his bread and butter.
Feeling the league was rushing teams to start the 2011-12 season after the lockout lifted, Garnett noted, "Chemistry is something that you don't just throw in the frying pan and mix it up with another something, then throw it on top of something, then fry it up and put it in a tortilla and put in a microwave, heat it up and give it to you and expect it to taste good. You know? For those of you who can cook, y'all know what I'm talking about. If y'all can't cook, this doesn't concern you."