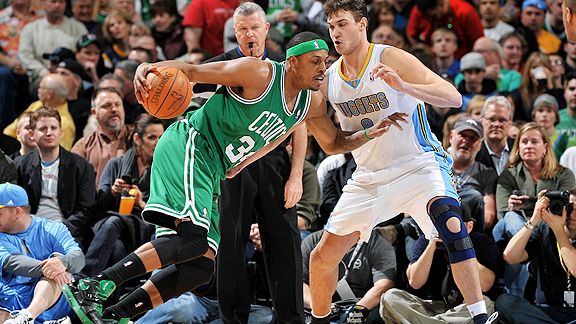 Garrett W. Ellwood/NBAE/Getty Images
Paul Pierce and the Celtics look to keep their winning streak going against the Nuggets on Sunday.The Boston Celtics (26-23, 18-9 home) host the Denver Nuggets (33-18, 11-15 road) on Sunday night at TD Garden (6 p.m., CSN). Here's what to watch for:


* WE'RE GOING STREAKING!: It's a battle of the league's two hottest teams as Boston enters with a season-best six-game winning streak, while Denver has won a league-best nine in a row. The Celtics will have a slight edge after taking the last two days off (snow forced the team to scrap Saturday's practice). The Nuggets played in Cleveland on Saturday night.
* SYNERGY SNAPSHOT: The Nuggets are ninth in the league offensively, averaging 0.93 points per play, according to Synergy Sports data. Transition accounts for a whopping 18 percent of possessions for pace-pushing Denver (tied for the top play-type along with spot-up shooting). The Nuggets rank ninth in transition, masking some of their woes in spot-up and pick-and-roll (though they are top 10 in isolation). Danilo Gallinari (1.031 points per play, 89th percentile) and Kenneth Faried (1.011, 85th) are among the team's most efficient offensive players. Defensively, the Nuggets are eighth overall while allowing 0.9 points per play. Denver is one of the worst teams in the league versus spot-up shooting, but limits the damage via other top play types. Paul Pierce is probably happy to have to deal with Andre Iguodala (0.749 points per play, 89th percentile) only twice per season now.
* READY TO RUN: The Nuggets own the second-highest pace in the league (97.69 possessions per 48 minutes) and should be looking to crank things up against a Boston team that's more middle-of the pack (18th, 93.62 possessions). The Celtics won't shy from an up-tempo game as coach Doc Rivers has implored his team to run, particularly looking to generate early offense since Rajon Rondo was lost for the season.
* NO SECOND CHANCES: Denver ranks second in the league in offensive rebound percentage (31.8 percent). Timofey Mozgov owns the team's best offensive rebounding percentage (14.1 percent) and everyone knows what Faried (13.8 percent) can do on the glass. But Denver is relentless and JaVale McGee and Kosta Koufos each have solid offensive rebound rates as well. The Celtics, particularly as they attempt to play more small ball, absolutely have to be sharp on the glass to prevent second-chance opportunities.