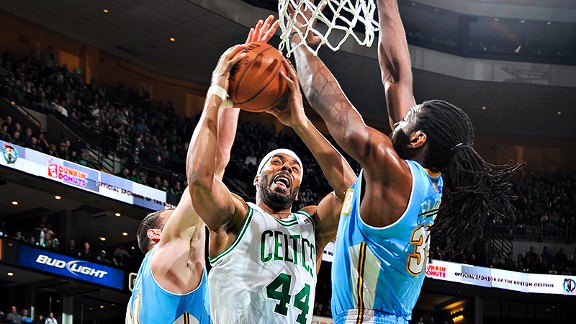 Steve Babineau/NBAE/Getty Images
Chris Wilcox tries to muscle up a shot in traffic against the Nuggets.BOSTON -- Rapid reaction after the Boston Celtics defeated the Denver Nuggets 118-114 in triple overtime on Sunday night at TD Garden:


THE NITTY GRITTY
Paul Pierce utilized the extra sessions to register his second triple-double in the seven games since Rajon Rondo was lost for the season. Pierce finished with a team-high 27 points to go along with 14 rebounds and 14 assists over a career-high 54:11, while Jason Terry posted a season high with 26 points on 10-of-22 shooting. Kevin Garnett added a double-double with 20 points and 18 rebounds for Boston, while Jeff Green (17 points, 4 rebounds, 3 blocks) hit some huge shots in clutch situations to help Boston eventually emerge. Ty Lawson scorched the Celtics to the tune of 29 points, hitting big shots all night to keep the Nuggets alive. Danilo Gallinari overcame an ice-cold start to score 18 points to go along with 10 rebounds. Kenneth Faried added 14 points and 12 rebounds.
TURNING POINT I: NUGGETS TAKE LATE FIRST LEAD
Despite leading by as much as 12, the Celtics watched the Nuggets pull even two minutes into the fourth quarter after Andre Miller spun his way through the lane for a crafty turn-back-the-clock layup that tied the score at 78 with 9:54 to go. Terry responded with a 15-foot jumper to ignite a 7-0 burst that included a corner 3-pointer from Avery Bradley, but Denver rallied back to take its first lead on a 3-pointer from Lawson with 1:43 to play. (Faried, who kept the play alive, was whistled for a post-shot technical that allowed Boston to immediately tie the game at 90.)
TURNING POINT II: TIE LAWSON
Green got Faried in the air with a pump fake beyond the arc, then buried a 16-foot baseline jumper with 47.9 seconds remaining for a 92-90 lead. Faried nearly atoned, driving hard at the basket and drawing a blocking foul on Pierce with 5.4 ticks to go, but he missed the first of two freebies. Faried missed the second free throw on purpose and Miller sneaked in for a clean putback attempt that would have tied the game, but missed it. Denver got another chance when Boston knocked the ball out of bounds with 3.6 seconds to go (video replay overturning the initial call) and Lawson made it hurt by banking in a layup with 0.8 seconds to go to tie the game at 92, forcing the first overtime.
TURNING POINT III: DOUBLE OVERTIME
Green's clutch corner 3-pointer with 23.8 seconds to go tied the game at 99 in the first overtime and Lawson missed a triple at the buzzer to force a second extra session. Boston rested Garnett to start double overtime, but the team as a whole didn't have enough left in the tank. The Nuggets scored the first two hoops of the frame and Boston didn't get on the board until Green's driving layup with 88 seconds to play. Garnett tied the game at 103 with a jumper, but Gallinari, ice cold to that point, hit a 19-foot fadeaway with 37 seconds to go to put the Nuggets back out front. Pierce got to the line, but missed the second of two freebies, and Lawson responded with a 19-foot straightaway jumper for a 107-104 lead with 18.9 to go. Pierce went isolation and somehow willed in the tying 3-pointer with Miller draped on him with 5.2 seconds to go.
TURNING POINT IV: CELTICS EMERGE
Garnett, with a whopping 47 minutes for the game, hit some huge shots to start the third extra session, but it was Terry who hit a clutch 3-pointer with 1:33 to go in a tied game, produced a late-game steal, then capped the game with a layup in transition as an exhausted Boston squad celebrated a gritty win.
FAST START, QUICK RESPONSE
The Celtics opened the game on a 12-0 run, holding the Nuggets without a bucket for the first 4:18 (Denver turned the ball over five times during that span). Lawson finally broke up the shutout (after another near-turnover) with a pull-up jumper that ignited a little 9-0 run (highlighted by a monster alley-oop slam by Faried in transition off a Lawson feed) as the Nuggets got right back in the game. Denver turned the ball over seven times (for 14 points) in the frame allowing Boston to build a 10-point cushion (29-19) after 12 minutes -- but it chipped away all night.
WHAT IT MEANS
Wow, what a game. The Celtics simply refused to let this one get away. In doing so, they ended Denver's nine-game winning streak and pushed their own winning streak to a season-high seven games. The Celtics have now played a ridiculous 14 overtime sessions (5 single; 3 double; 1 triple). That's 70 extra minutes (1.5 games). And Boston has a back-to-back looming Monday in Charlotte. For now, the Celtics will savor this one and worry about that when they get to North Carolina.