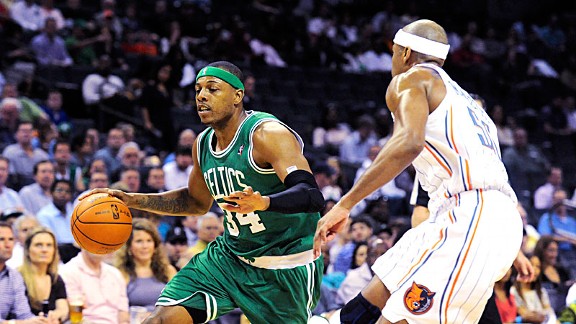 Sam Sharpe/US Presswire
Celtics captain Paul Pierce at work versus the Charlotte Bobcats.The Boston Celtics (27-23, 8-14 away) and their season-best seven-game win streak visit the Charlotte Bobcats (11-39, 6-19 home) on Monday night at Time Warner Cable Arena. Here's what to watch for:


* PUNCHING THE CLOCK: Celtics coach Doc Rivers has some interesting lineup decisions to make after running Paul Pierce (54 minutes) and Kevin Garnett (47 minutes) hard in Sunday's triple-overtime win over the Nuggets. Rivers was noncommittal about his plan after topping Denver, but even with just 11 healthy bodies, it's likely Boston will do everything possible to limit the wear-and-tear on its veterans. Expect younger legs like Avery Bradley, Jeff Green, and Courtney Lee to get the lion's share of minutes against the struggling 'Cats.
* SYNERGY SNAPSHOT: The Bobcats rank 23rd overall in offense, averaging 0.892 points per play, according to Synergy Sports data. Despite much of their struggles, Charlotte is actually the top-ranked team in scoring via pick-and-roll ball-handler (0.885 points per play). Kemba Walker and Ben Gordon can still hurt opponents off the dribble. Defensively, the Bobcats are dead last allowing 0.967 points per play. About the only thing that Charlotte ranks in the top half of the league in is post defense (14th).
* KEYS FOR THE 'CATS: The Bobcats rank near the bottom of the league in most of the key advanced metrics (29th in offensive rating; 30th in defensive rating), so what do they actually do well? Charlotte takes decent care of the ball (sixth in team turnover percentage), thrives in the open court (fourth in fastbreak points per 48 minutes), and gets the free-throw line will some regularity (third in free-throw rate). Alas, the defensive woes negate just about everything good the 'Cats do.
* BACK-TO-BACK: The Celtics are 6-6 on the second night of back-to-backs this season, but a mere 3-6 when that second game occurs on the road. Monday's game won't be quite as easy to get up for as, say, against the Lakers last Thursday. This is the sort of night Boston really needs their young legs to carry them and give the veterans a blow. The Celtics have only one other game before the All-Star break -- a visit from Chicago on Wednesday, but surely they'd like to be as rested as possible for that showdown with a top East foe.