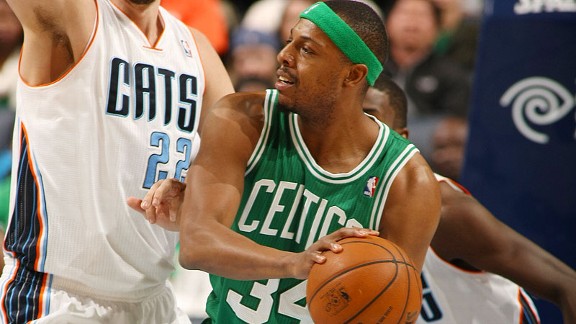 Kent Smith/NBAE/Getty Images
Celtics captain Paul Pierce looks to pass against the Bobcats.Rapid reaction after the Charlotte Bobcats defeated the Boston Celtics 94-91 on Monday night at Time Warner Cable Arena:


THE NITTY GRITTY
Byron Mullens scored 25 points on 10-of-16 shooting with 18 rebounds to pace the Bobcats, but it was Gerald Henderson (16 points) and Ramon Sessions (19 points) who hit the big shots down the stretch to help Charlotte snap Boston's seven-game winning streak. Jeff Green scored a team-high 18 points (though he curiously spent half the fourth quarter on the bench), while Kevin Garnett -- fresh off playing 47 minutes in Sunday's triple-overtime win over Denver -- chipped in 16 points and 13 rebounds over 29 minutes. Both Paul Pierce (13 points) and Avery Bradley (8 points) had a chance to tie the game on Boston's final possession, but the Celtics simply ran out of gas.
TURNING POINT
A Henderson layup with less than four minutes to play had Charlotte out front by a point, but Jason Terry answered with a 3-pointer and Garnett hit consecutive fadeaways to give Boston an 89-85 lead with 2:46 remaining. Charlotte wouldn't go quietly and Sessions followed a Henderson triple with an 18-foot jumper to put the Cats out front 92-91 with 25 ticks to play. Garnett missed a clean look at an 18-footer from the left side and Walker made two freebies before Pierce and Bradley missed potential tying shots on Boston's final possession.
BARBOSA (KNEE) DEPARTS
Celtics backup guard Leandro Barbosa suffered a left knee injury late in the third quarter and needed to be carried from the floor. Hop HERE to read more, but it's the latest bite from a pesky injury bug that already forced Rajon Rondo (knee) and Jared Sullinger (back) out for the remainder of the season.
WHAT IT MEANS
The Celtics knew it wouldn't be easy after Sunday's marathon and simply couldn't hold on at the end. Garnett, Pierce and Terry gave a gutsy effort after playing monster minutes against Denver, but you could see the team had heavy legs. Boston falls to 6-7 on the second night of back-to-backs this season, including 3-7 on the road. The Celtics will take a day off before closing out the first half of their season by hosting the Chicago Bulls on Wednesday night at TD Garden. Five well-earned days off await before a five-game road trip out west to start the second half.