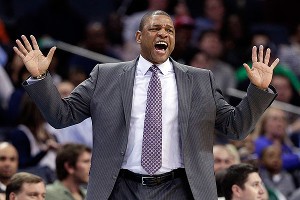 AP Photo/Chuck Burton
Celtics coach Doc Rivers didn't like a call against his team in Charlotte.Celtics coach Doc Rivers was worried that his team would suffer from tired legs during Monday's game against the Bobcats after outlasting the Denver Nuggets in triple overtime on Sunday night, and sure enough, a handful of late front-rimmed shots and poor transition defense suggested Boston was indeed fatigued as the team saw its seven-game winning streak come to a halt with a 94-91 loss in Charlotte.
"Listen, (the Bobcats) beat us in transition basically all game," Rivers told reporters in Charlotte. "It may say it in the numbers, but they got a lot of early offense, even the 3 they got where they just pushed the ball. We're a great matchup team. Tonight we just couldn't get back to match up. And then we missed a lot of shots -- front rim -- which is typical with tired legs. But give them credit, I thought they competed and they hung in there."
Rivers went on to add, "I thought all game we just never got back and matched up. And they knew that. You could see they were really trying to push the pace, and they scored, I think, 12 points after made baskets where they pushed it up and we just didn't match up."
Charlotte finished the game with a 15-9 edge in fast-break points, but, as Rivers alluded to, it was the Bobcats' emphasis on pushing the ball even off of made baskets that kept a consistent pressure on Boston's defense.
The Celtics held an 84-79 advantage with just more than six minutes to play and Kevin Garnett, Jason Terry, Avery Bradley and Paul Pierce all had quality looks at the basket as Boston tried to close out the Bobcats down the stretch, but the shots just wouldn't go down. Still, Rivers was happy with Boston's attempts over the final minutes and was pleased to see his go-to players have confidence in other teammates taking important shots.
"We get a five-point lead and usually we close that game out and we didn't," Rivers said. "We got great shots. I was really happy Paul came off and hit Avery wide open, and I liked that. That will serve us well over the season. Avery didn't make the shot tonight, but he will make them most of the time, especially when a guy like Avery understands that a guy like Paul will hit the open guy. And I think overall that's good for your basketball team."
The Celtics will take Tuesday off to rest their tired legs and gear up for Wednesday's pre-All-Star break finale against the Chicago Bulls.