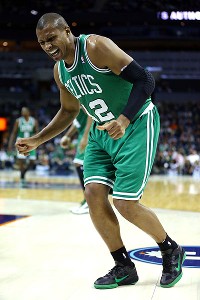 Streeter Lecka/Getty Images
Leandro Barbosa grimaces in pain after hurting his knee in Charlotte.The Boston Celtics might have lost more than just their first game in eight tries when Leandro Barbosa suffered a non-contact, left knee injury late in the third quarter of Monday's streak-snapping loss to the Charlotte Bobcats.
Having already endured season-ending injuries to Rajon Rondo (knee) and Jared Sullinger (back), the Celtics now could be without one of their top reserve guards. Barbosa is scheduled to undergo an MRI on Tuesday, but Kevin Garnett hinted after Monday's game that the injury might threaten Barbosa's season. A handful of thoughts on why Barbosa's loss is particularly significant for Boston:
* TOP RESERVE LINEUP ALTERED: In the eight games since Rondo was lost for the season, Celtics coach Doc Rivers has found a reserve-heavy lineup he loves by combining Barbosa, Jason Terry and Jeff Green alongside starters Paul Pierce and Kevin Garnett. The unit had played the second-most minutes together outside of the starting five and was a whopping plus-29.8 per 48 minutes over those eight games. Zoom in on the three-man grouping of Barbosa, Terry and Green, and Boston was plus-28 in 147 minutes with them together -- far and away the best three-man combo of the team's top 10 most utilized (in fact, no other three-man combo in that group was better than plus-4).
* INSTANT BUCKETS: Barbosa averaged 8 points, 2.8 assists and 2.4 rebounds over 21.3 minutes per game in eight appearances since Rondo was lost for the year. He really found his groove at the start of February, reaching double figures in scoring over three consecutive games while averaging 13.3 points per game, shooting 55 percent (16-of-29) and adding three assists per contest. Barbosa was a whopping plus-42 during that three-game stretch. He had cooled the last three games (2.7 points on 17.6 percent shooting; minus-5), but good things happened more often than not when Barbosa was on the court.
Avery Bradley had taken to calling Barbosa "Instant Buckets" for his immediate offense. On a Boston team that has struggled to generate consistent scoring, Barbosa was a nice change of pace, both with his fearlessness in attacking the basket and his no-hesitation approach to putting up shots. His high-arcing, crazy-angled floaters didn't always look pretty, but they found a way in.
One of the quiet advantages of having Barbosa on the floor was his competitive defense. Rivers noted last week how his speed allowed him to stay with his man, often fighting over screens to stick with opposing ball-handlers. Barbosa's defense helped mask some deficiencies when paired with Terry. If Barbosa is out, there's a clear need for another guard, particularly one that can maintain the defensive energy when Bradley and Courtney Lee are off the floor. Boston has operated short-handed for much of the past few weeks, but down to just three healthy guards, the Celtics need help sooner than later.
* OPPORTUNITY LOST: After downplaying chatter that he wanted out of Boston because of his minimal role at the start of the season, Barbosa gushed about his opportunity in the aftermath of Rondo's injury. "I got my chance now," Barbosa said last week. "And I'm very happy to be on the court and help my teammates."
Ironically, Barbosa noted about injuries that, "Anything can happen." If his injury ends his season, it might also end his time in Boston. Inked to a one-year, veteran-minimum deal, Barbosa will be a free agent at season's end. He did admit Boston's history played a big role in his desire to play here.
"It's a dream for everybody, coming to the Celtics," Barbosa said. "The Celtics are a great team, they have a lot of titles, a lot of good players. Larry Bird -- even now with [Kevin Garnett], Paul Pierce and Rajon Rondo. It's always a dream for a basketball player to come to a big team like this."
If Barbosa is done for the year, would the Celtics, pressed for roster space with two other season-ending injuries, be forced to consider buying out Barbosa to open a spot for additional needs?
* WHAT'S OUT THERE?: If the Celtics need a short-term fix, they could do worse than reaching to their own D-League affiliate in Maine to bring in Shelvin Mack on a 10-day deal. Mack already has played through three 10-day contracts (one with Washington; two with Philadelphia) and appeared in 11 games (making two starts with the Wizards). Playing in Maine, he's somewhat familiar with Boston's playbook and schemes. Familiar names will undoubtedly bubble up again (such as Delonte West), but the Celtics have resisted going that route to this point. Longer-term help could be found on the trade market, but the eroded depth makes it even more difficult for Boston to even ponder trading away any of its healthy players without creating a need at that player's position.