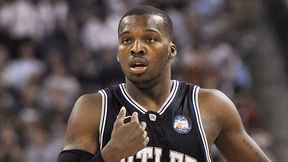 Richard Mackson/US Presswire
Could former Butler guard Shelvin Mack be an option for the Celtics?When Rajon Rondo was ruled out for the season with a torn right ACL, the Celtics didn't immediately pull the trigger on trying to fill their All-Star guard's shoes. They stressed patience and were ready to lean on their remaining guard core -- including Leandro Barbosa -- to help fill the void and carry on with the rest of the campaign.
But with Barbosa possibly out for the rest of the season after sustaining a non-contact left knee injury in the third quarter of Monday's 94-91 loss to the Charlotte Bobcats, president of basketball operations Danny Ainge might will be forced to bring in outside help. If the Celtics decide to seek another combo-guard or ball handler, what options do they have? Let's explore.
THE FREE AGENT ROUTE
Perhaps as expected, there aren't many high-profile names and surefire difference-makers out there waiting to be signed. But there are some potentially serviceable candidates available, including old friend Delonte West.
West's name was immediately brought up as an option for Boston when Rondo went down, and his name will likely be tossed around even more now. West's off-the-court troubles have been well-documented, and could be the biggest detractor in Boston's eyes. While he's been lauded in the past for his all-out effort and ability to play hard -- something these Celtics would value -- the possibility of West potentially hampering the strong team chemistry that's developed in the Celtics' locker room could deter Boston from inquiring about his services.
Depending on how desperate Boston feels to sure up its guard depth with experienced NBA players, there are a few other veteran names out there, including Mike Bibby, who played for the Knicks last season. It's difficult seeing Boston go this route, and it should be stressed that any older veterans would likely be relied upon strictly for depth purposes as opposed to significant contributions.
D-LEAGUE HELP
This might be Boston's best bet in the short-term, as they could utilize a 10-day contract to bring in some younger help and bolster their depth as they contemplate a more permanent move. A name you'll likely hear a lot of this week is that of Shelvin Mack, the former Butler star currently playing for Boston's D-League affiliate, the Maine Red Claws.
On top of having some recent NBA game experience, Mack might be the most familiar with the Celtics' system, seeing as the Red Claws have incorporated it as their own. Mack's drawn interest from other clubs this season, having already earned three 10-day contracts -- one with the Washington Wizards and two with the Philadelphia 76ers. Mack started in two games for the Wizards and played in seven overall, averaging 5.3 points and 3.3 assists in 20.1 minutes. In 17 games for the Red Claws this season, Mack has averaged 19.6 points, 7.6 assists, and 4.7 rebounds in just under 40 minutes per game.
The Red Claws also feature Andre Barrett, a 30-year-old with 67 games of NBA experience from 2004-08. Barrett leads the D-League with 9.3 assists per game.
DOOLING RETURNS?
The possibility of Keyon Dooling returning to active duty surfaced as soon as Rondo went down, but the veteran guard, who now serves as player development coordinator for Boston, took to Twitter to announce he wouldn't be suiting back up this season. But prior to Dooling's Twitter announcement, Doc Rivers suggested he'd inquire about his services, given his familiarity with and involvement in the organization, but Ainge quickly shot the notion down.
Dooling proved to be a strong locker room presence for Boston last season, and though his on-court contributions were inconsistent at times, he came through with some important shots in the Eastern Conference finals against the Miami Heat. With Barbosa in the mix, Dooling likely wouldn't have cracked Boston's guard rotation. But with that spot now open and not many other options available, the Celtics could use some reliability at the spot, which Dooling can provide.
Might Ainge give more consideration to having Dooling to lace his sneakers back up and ride things out with the team for the rest of the season? Despite Dooling downplaying his chances of returning, if the Celtics really made a push for him to come back, it's not too difficult seeing him giving it some consideration.
TIME FOR A TRADE?
Losing another key piece of the roster might put more pressure on Ainge to contemplate making a move around the Feb. 21 trading deadline. The biggest obstacle for Boston in this scenario might be its sudden lack of depth, though. On top of having a host of players with fairly long contracts (Jason Terry, Brandon Bass, Jeff Green, etc.), the Celtics might not have enough support at each position to risk losing any of their current parts.
The Celtics still have plenty of talent on their roster, so it's a question of whether it's possible for them to actually upgrade the roster without sacrificing what little depth still remains. Whereas Ainge might have had a bit more freedom to contemplate shuffling what was still a deep back court rotation prior to Barbosa's injury, he now might not feel capable of tampering too much with the trio of Terry, Courtney Lee, and Avery Bradley that remains.
MOST LIKELY SCENARIO
The Celtics stand pat until the trade deadline and assess their direction for the rest of the season.
If there's any sort of silver lining to this latest injury, it might be the timing of it. Boston has only Wednesday's game against the Chicago Bulls left before the All-Star break, and they'll have just two games after that before the deadline arrives. They could sign a guy like Mack to a 10-day deal for some support in those two games after the break, but in the meantime, it'll most likely be on Ainge's shoulders to further contemplate the direction of this club for the remainder of the season. After losing both Rondo and rookie Jared Sullinger (back surgery) for the season, Ainge seemed content to stay the course with his remaining players (potentially adding some cheap free agents along the way), but the loss of another key rotation player could compel him to shake the team up a bit if he can find a deal that he feels improves his club's chances heading towards the postseason.
YOUR TURN
How should the Celtics proceed from here? Sound off in the comments.