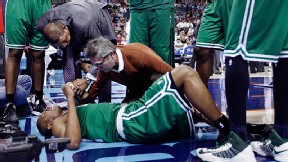 AP Photo/Chuck Burton
Team trainer Ed Lacerte tends to Leandro Barbosa on Monday in Charlotte.Rapid reaction after a team source confirmed that Boston Celtics guard Leandro Barbosa will miss the remainder of the 2012-13 season with a torn ACL in his left knee:
* WORST FEARS CONFIRMED: Kevin Garnett sort of spilled the beans after Monday's loss in Charlotte, and follow-up tests Tuesday only confirmed that Barbosa's injury was a season-ender. That's the third rotation player Boston has lost in a 15-day span after previously watching Rajon Rondo (right ACL) and Jared Sullinger (back) go down for the season.
* INJURY BUG HAS BEEN RELENTLESS: If the past few seasons have taught us anything, it's how important it is for a team to simply keep its players upright to be able to compete for a title. Ever since raising Banner 17 after an alarmingly healthy 2008 campaign, the Celtics have been fighting the battle of attrition. And age really hasn't been a huge factor. Then-32-year-old Garnett suffered a knee injury, derailing Boston's title defense in 2009; then-25-year-old Kendrick Perkins went down with a torn ACL in Game 6 of the NBA Finals in 2010; Shaquille O'Neal and Jermaine O'Neal -- although more advanced in age -- spent more time on the trainer's table than on the court in 2011, and Rondo dislocated his elbow in the postseason that year; and last season Boston saw then-25-year-old Jeff Green and then-29-year-old Chris Wilcox both lost to heart ailments and then-21-year-old Avery Bradley's playoff tenure was cut short by shoulder woes. Yet again, it's the young going down this season in Sullinger (20), Rondo (26) and Barbosa (30), leaving veterans such as Paul Pierce (35), Jason Terry (35) and Garnett (36) to shoulder the load moving forward.
* REQUIRED READING: Previously, we covered what the Celtics lose without Barbosa on the floor and their potential options to replace him on the roster.
* (UPDATE, 4:45 p.m.) OFFICIAL WORD FROM TEAM: Here's what the Celtics sent out in a news release this afternoon: The Boston Celtics announced today that guard Leandro Barbosa underwent an MRI this morning at New England Baptist Hospital after his left knee injury last night against the Charlotte Bobcats. The MRI revealed that Barbosa suffered a torn ACL in his left knee. No surgery date has been scheduled and he will be out for the remainder of the season.