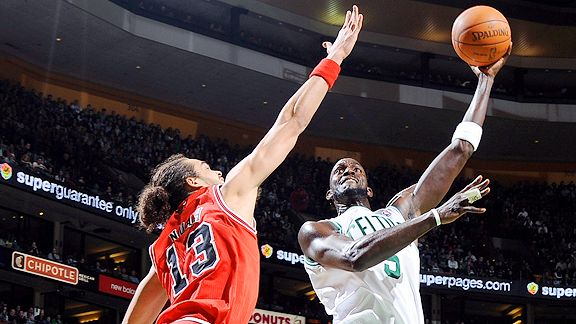 Brian Babineau/NBAE/Getty Images
Kevin Garnett gets up a little hook shot over Joakim Noah.The Boston Celtics (27-24, 19-9 home) host the Chicago Bulls (30-21, 15-9 away) on Wednesday night at TD Garden (7:30 p.m., CSN). Here's what to watch for:


* REVENGE ON THEIR MINDS?: Three weeks back, the Celtics let a very winnable game slip away as the Bulls emerged with a 100-99 overtime triumph that sent Boston spinning through a six-game losing streak (culminating two nights later with Doc Rivers threatening changes after a lopsided loss in Detroit). A LOT has changed for Boston since then, including three-season ending injuries to key rotation players, but Wednesday's game is a decent measuring stick for where a depleted Boston squad stands with a chief Eastern Conference rival with the All-Star break and -- maybe more importantly -- the Feb. 21 trade deadline looming.
* LOOKING FOR HEALTHY BODIES: Celtics-Bulls doesn't have the same shine with both All-Star point guards out with ACL tears. Both teams are missing key backups for those stars as well (Kirk Hinrich is out for Chicago; Boston lost Leandro Barbosa to his own ACL tear on Monday). For the Bulls, Joakim Noah is battling plantar fasciitis that has limited his effectiveness. Chicago has lost four of its last six with Noah noting after a loss to the Spurs earlier this week, "We're not playing good basketball right now."
* STAT SNAPSHOT: Everyone knows the story with the Bulls: They play terrific team defense (fourth in the NBA in defensive rating) and they attack the glass relentlessly (third in offensive rebound percentage; fifth in total rebound percentage). The Bulls do have a propensity to get sloppy with the ball -- no surprise missing both Rose and Hinrich at the moment and leaning on the likes of old friend Nate Robinson -- and Boston absolutely must capitalize. In last month's loss, Boston turned 21 turnovers into a mere seven points. That's completely unacceptable. Chicago will look to muddy up the game, eat up the clock on offense, and force a depleted Boston offense to work for its points. Don't expect a particularly pretty game and both sides will have to work extra hard for clean looks.
* WHO WILL STEP UP?: The Celtics are down to 10 healthy bodies at the moment, and that includes rookie Fab Melo as he shuttles between the D-League while providing emergency frontcourt depth. Boston has only three healthy guards on its roster -- Avery Bradley, Courtney Lee, and Jason Terry -- so expect some interesting lineup combinations where the Celtics might be forced to go big simply given that seven of its 10 available bodies are 6-foot-7 or taller.