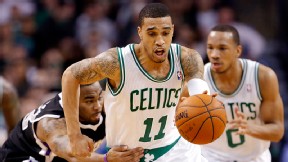 David Butler II/USA Today Sports
Courtney Lee could see an uptick in plying time with the loss of Leandro Barbosa.Some thoughts on lineups and substitution patterns as the Celtics prepare to operate with only 10 healthy bodies after losing Leandro Barbosa for the season during Monday's loss in Charlotte:
* HANDS TIED WITH FIRST SUB: Here's a glaring example of why the Celtics could use big-man help before month's end: Boston has really no other serviceable option at the moment but to lean on Jason Collins as the first big off the bench when Kevin Garnett checks out after a five-minute stint. With Jeff Green playing some inspired ball, the preference here might be to go with a Brandon Bass-Green undersized frontcourt, but that two-man combo, in 400 minutes of floor time this season, has been disastrous on the glass, posting a 70.6 defensive rebounding percentage and 44.9 percent total rebound percentage. For the season, Boston is rebounding 73.6 percent of available defensive caroms (14th in the league) and 47.9 percent overall (28th, but dragged down by a strategic aversion to offensive rebounds). The Green-Bass combo simply might not be competitive enough on the glass to lean on it for long stretches.
Boston flirted with Chris Wilcox as the first sub in Sunday's overtime win over the Nuggets, but in 184 minutes together this season, the Wilcox-Bass combo has been even worse than the Green-Bass combo. Wilcox and Bass own cringe-worthy rebound rates of 63.9 percent on the defensive glass and 43.4 percent overall, and were absolutely dominated by the Nuggets. Wilcox is having a spectacular offensive season, making the most of limited touches. But the Celtics need him to be a more consistent defender and rebounder in order to ramp up his minutes.
Given Collins' offensive limitations, the Celtics might be best served as this point to lean heavy on Wilcox again and see if increased minutes can build his confidence at the defensive end. Whatever is available for big-man help outside the organization might not be better than what it has in-house.
BLURRY VISION: WHAT TO DO WITHOUT BARBOSA: Barbosa typically played an eight-minute stint spanning into the second quarter and allowed Boston to rest its first-unit guard combo of Avery Bradley and Courtney Lee simultaneously. That won't be so easy until the Celtics add another guard option, which could mean increased minutes and a more staggered substitution pattern for Bradley, Lee, and Terry, with Pierce spending time at the guard spot in bigger lineups. Trouble for the Celtics is that they've had great success recently with a Barbosa-Terry-Pierce-Green-Garnett combo to start the second quarter. There's no easy solution here with only 10 available bodies, seven of which are 6-foot-7 or bigger, and rookie Fab Melo will remain glued to the pine for emergency situations.
So what can Boston do? It might have to ponder running Bradley for the entire first quarter, then come back heavy on Lee in the second. The trouble there is that their games are predicated on pressure defense and ramping up minutes diminishes their ability to hound the ball (at least without the fear of exhaustion). Mix in potential foul trouble and it's a recipe for disaster. Adding another guard, even just to play short minutes while spanning quarters in each half will preserve Bradley and Lee, but there's bound to be a drop off from the offensive spark and steady defense that Barbosa provided at that spot. Barbosa was a steal of a late-offseason pickup and was a nice luxury for this team even before Rondo went down.
* LINEUP TO WATCH: If the Celtics trot out a Lee-Terry-Pierce-Green-Garnett combo as its second- and fourth-quarter starting combo, a small sample suggests it can sustain Boston's recent solid numbers. In 25 minutes together this season, that combination owns a 91.1 defensive rating and is plus-8 during its floor time. Heck, it might not matter who fills that Barbosa spot and it might only be a temporary issue until Boston adds guard depth, but the Celtics must yet again tinker with rotations. Needless to say, the All-Star break comes at a good time and additional help will be needed for the five-game west-coast swing that opens the second half. The one thing Boston absolutely cannot do is extend the minutes of Garnett and Pierce, as preserving their veteran legs over the final 30 games of the season should be paramount to everything else if this team wants a legitimate chance to make noise in the postseason. Yet again, this team must find a delicate balance between climbing the Eastern Conference playoff ladder and sacrificing potential wins to keep their veterans upright.
* STARTING LINEUP SHUFFLE?: Some have wondered if Boston would consider moving Green into the starting lineup (with Pierce shuffling to the 2) and pushing Lee back to a bench role, giving Boston two guards off the bench. It's an intriguing option given Boston's depleted backcourt at the moment. Here's the trouble: In 121 minutes of floor time together, the Green-Bass-Garnett combo is minus-22.9 per 48 minutes. It's been an atrocious offensive pairing with a cringe-worthy offensive rating of 76.3 points per 100 possessions. Garnett helps mask the rebounding woes that the Bass-Green lineup has displayed, but the unit just hasn't meshed on the offensive end.